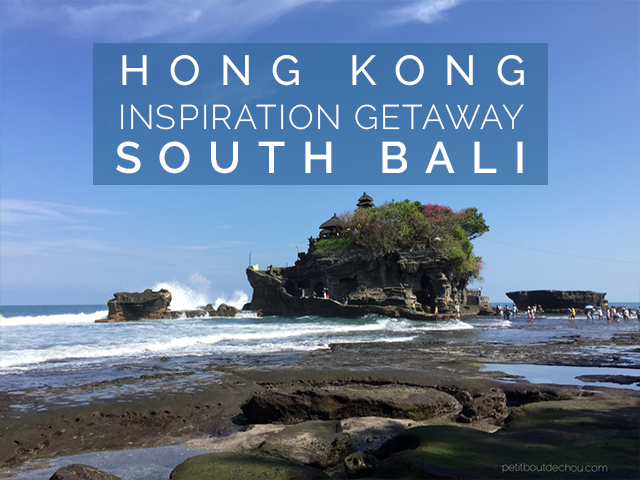 Is a 4-day getaway from Hong Kong to the South of Bali a crazy idea or worth the trip? Short answer is yes, go for it! You won't be disappointed but make sure you actually spend at least 3+ days there.
After almost 5 years spent in Hong Kong, I have kept postponing Bali to a future trip as I find it quite a long flight away for a getaway plus you need to keep some money aside to pay the expensive direct flight tickets! (Yes, in my opinion a getaway implies a direct flight, otherwise you end up loosing too much time in the transport to be worth the trip).
But with an early evening flight departure from Hong Kong, you can actually reach Denpasar, Bali, around midnight after a flight of 4 hours and a half. Not bad.
Then you can enjoy 3 full days+ of beautiful Bali before heading back to HK on the Sunday evening, revitalised and ready for a new bustling week!
SANUR
Sanur, on the South East coast of Bali is a great place to choose your hotel.
It is within an hour reach of most touristic places in the south of the island. There are hotels and restaurants for all price ranges along the beach.
The area is rather quiet compared to Kuta or Seminyak.
You can enjoy the 4km beachfront walk. This path is appreciated by joggers but you can also rent a bike or just enjoy the walk along this beautiful beach.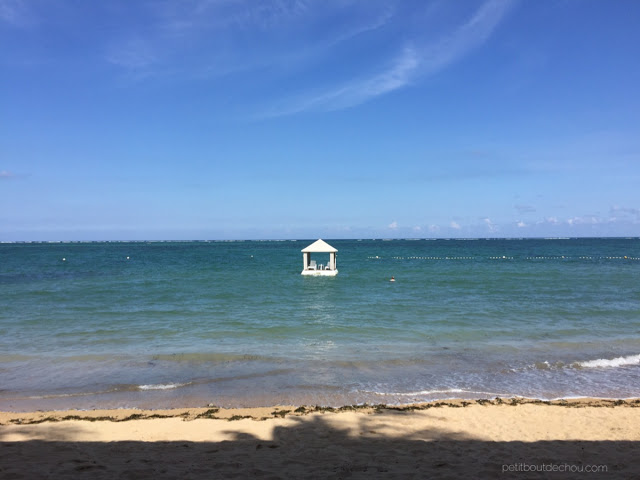 Sanur Beach from our hotel
PADANG-PADANG
About half an hour from Sanur by car, you can reach the beautiful beach of Padang-Padang, well known as a surfing spot but also great for simple swimmers. This beach is reached through narrow stairs built between two enormous rocks.
ULUWATU TEMPLE
A little bit south from Padang-Padang beach, you can stop at Uluwatu temple for stunning views of the cliffs and the amazing waves.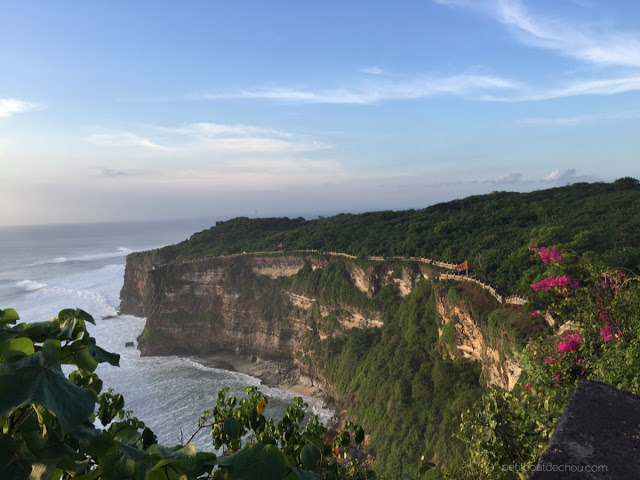 Uluwatu temple
The best is to be there by 5pm so you can watch the sunset and grab some tickets for the Kecak Ramayana and fire dance performance starting at 6pm.
Located in an amphitheater overlooking the sea, you can enjoy the sunset while the performance starts. They say that every visitor to Bali should see at least on dance, and if you only have time for one, then this should be the one.
It is indeed an impressive performance. A circle of performers keep chanting "tjak" in rythm while moving their arms and hands to depict a battle from Ramayana, an Hindu legend.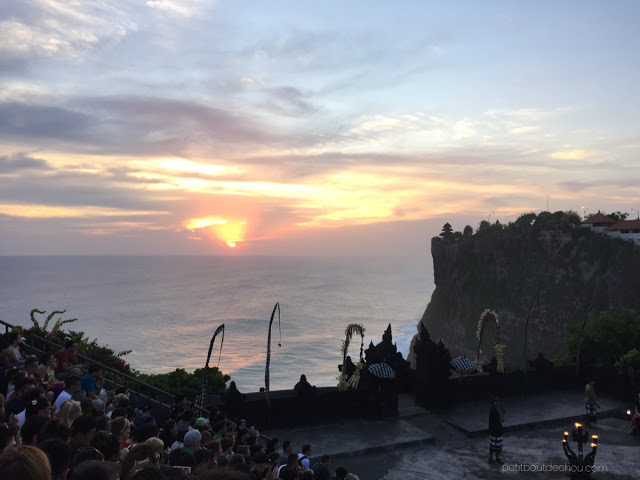 Kecak dance and sunset at Uluwatu temple
NUSA PENIDA
In front of Sanur beach, you can see the island of Nusa Penida. Taking the ferry or speed boat, it will take you about 45 minutes to get there.
I did not actually visited Nusa Penida island but did some snorkeling and scuba diving along its coast after a quite sickening rollercoaster speed boat crossing from Sanur.
The coral reefs are extraordinary and impressive by their extent.
Here are some souvenirs from these memorable dives.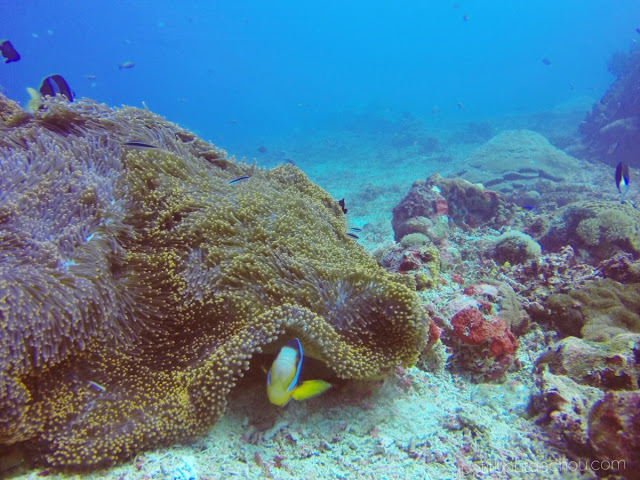 Clown fish and anemone in Nusa Penida – 1
The diversity of the marine life is a real delight. However, be careful with deep currents that can be dangerous in that area especially in case of high tides.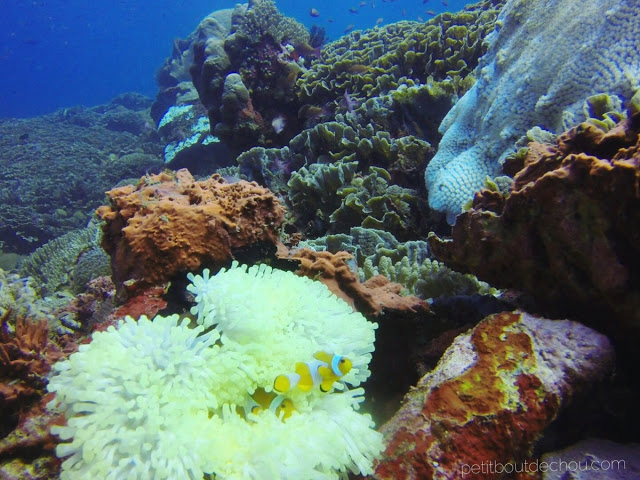 Clown fish and anemone in Nusa Penida – 2
UBUD
The charming city of Ubud is actually not very big.
You can find there many restaurants, jewellery & souvenir shops as well as art galleries.
I also spotted some yoga wear shops as this activity is quite developed in Bali.
Further North of Ubud, a trip to the rice terraces is a must. This lush scenery is astonishing.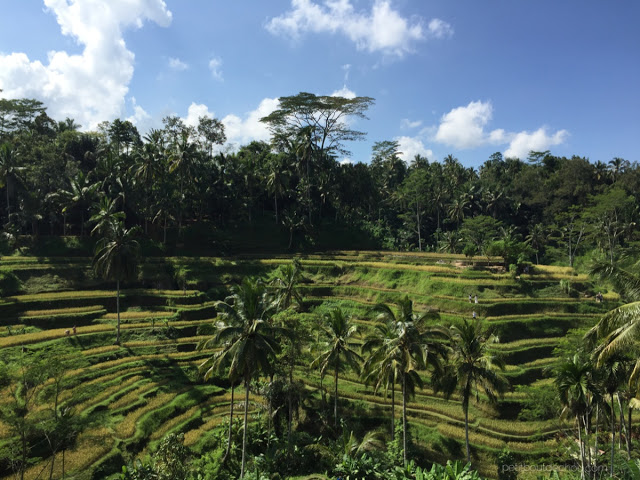 Rice terraces, Ubud
I discovered that Balinese are very good at crocheting in the many tourist shops. They are making all sorts of bikinis, dresses and colourful blankets.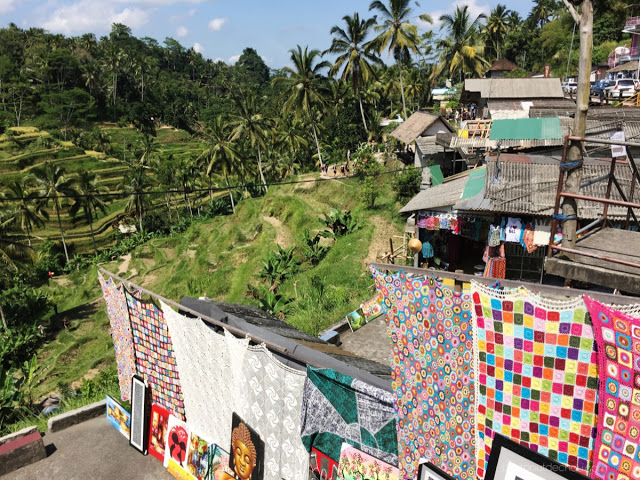 Rice terraces and Balinese crochet!
GUNUNG KAWI TEMPLE
A little further North of Ubud is Gunung Kawi temple. Located between rice terraces and within a lush jungle, this temple may remind you some of the Indiana Jones decors.
I love the way Balinese temples are so well integrated into their natural environment.
We visited the temple quite early in the morning without too many tourists. The temple itself really is a relaxing place filled with mystic incense perfume.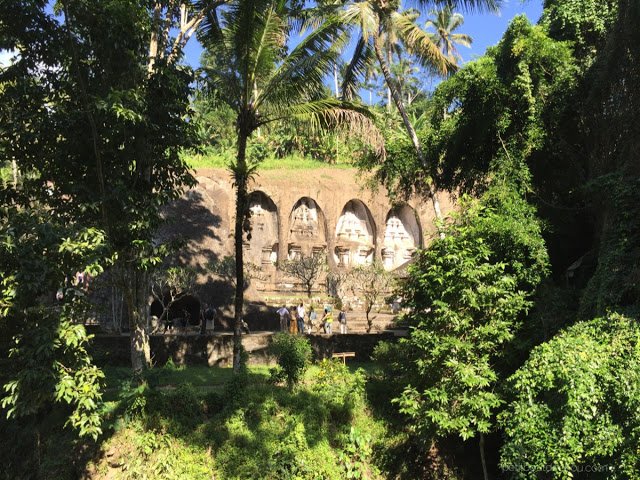 Gurung Kawi temple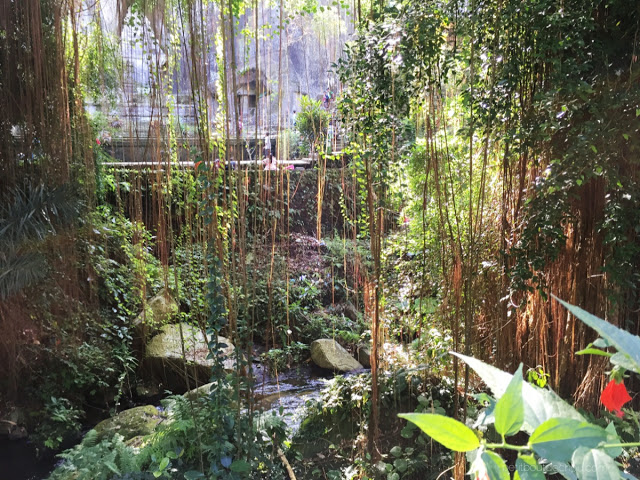 Jungle at Gurung Kawi temple
On your way to the temple, you will find many shops selling handicrafts made by carving coconut shells. They would make perfect candle holders.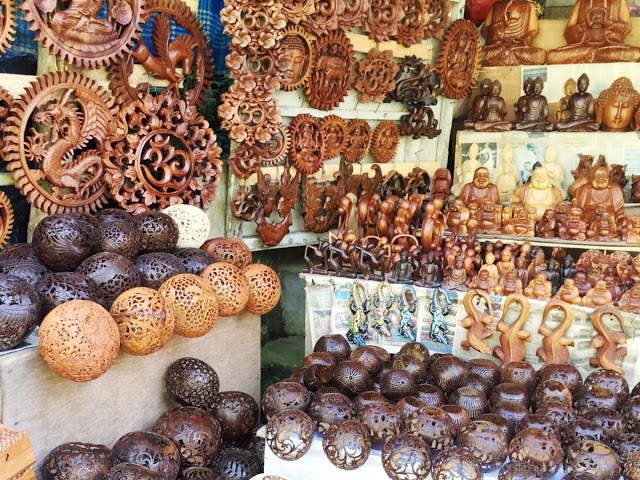 Many vendors will try to sell you batik Balinese sarong in cotton. The patterns and colours are gorgeous but be sure to negotiate a lot the price! I couldn't resist and brought back some for future projects. I especially like the golden borders around the pattern.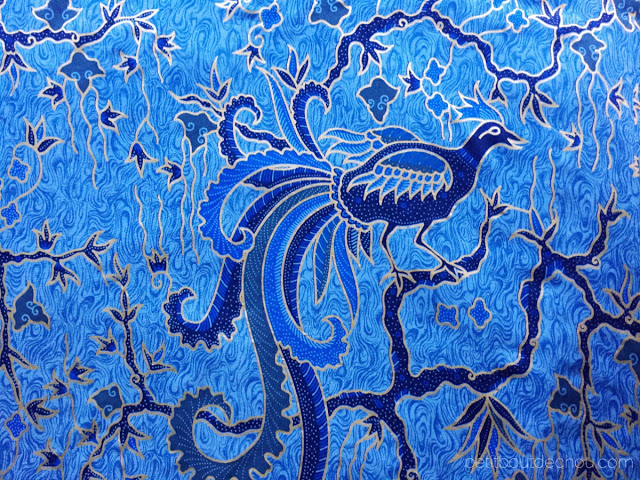 TANAH LOT TEMPLE
This amazing temple is located on the South West coast of Bali, at about one hour drive from Sanur.
Nestled on a rock surrounded by the sea at high tide, it is an exotic mini version of our French Mont Saint-Michel.
This temple, just as Uluwatu, is part of the seven sea temples around the Balinese coast.
From Tanah Lot you will have a splendid view of the South West coast.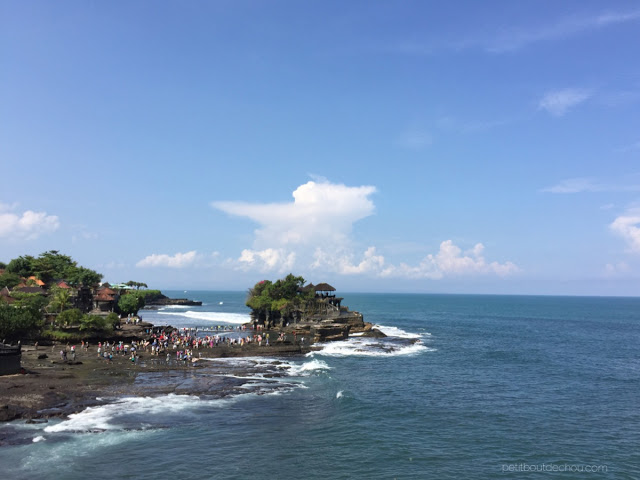 Tanah Lot temple
I hope you enjoyed this inspirational getaway guide to South Bali.
If you did, you may would like to have a look at my previous Hong Kong inspirational getaways:
Follow me on Pinterest, Instagram or Facebook for more getaway tips!
You can also subscribe to Petit Bout de News my monthly newsletter.
Happy travels!