Dear readers, let me start by wishing you all a great year 2016!
2015 was the year I launched this blog, I tried to make it evolve every week with some ups and downs, but I guess that's the way you learn, right?
For 2016, I hope I can continue helping you, craft lovers,  by providing even more tips for craft supplies in Hong Kong and funny DIYs.
I have been thinking about making this post for a while. I guess some crafters in Hong Kong (just like me) do not have the chance to spend as much time as they would love doing crafts or looking for the craft supplies themselves in the shops or in Sham Shui Po. But don't worry! There are many online shops that can deliver you supplies right to your door. See my list below:
Online craft shops
Fishpond offers free worldwide shipping. They have a very large selection of craft supplies for sewing, scrapbooking, beading, jewellery making, knitting, crochet…
From the giant amazon, you can find a lot of craft tools, supplies but books as well. It is also a great place to find starting kits for crochet, jewellery making etc.
Remember that you have to choose in your search preferences stores that do deliveries to Hong Kong.
I couldn't resits showing some nice craft books sold there, you can have a look inside the books on the website:
This is actually the online version of a shop I know in Sham Shui Po selling leather craft tools, Chinese pockets and gift bags, but also a lot of other craft tools.
http://veryeasydiy.com Prices are in USD
This shop offers many beads, leather and false suede chords, but also some display items for jewellery.
http://www.jackobindi.com.au/
They have great quality DIY fabric covered buttons in various sizes and large quantities + a selection of DIY items such as fabrics, tools, cabochons, etc.
http://www.readbookshk.com
Second hand online bookstore based in Hong Kong also sells book pages and covers for craft projects. See the comment left by Jo below.
http://www.kpcyarn.com/our-yarns
I already mentioned this store in previous posts. It is my favourite place for quality yarn in SO MANY beautiful colours… The prices are high though so I just bought  online and received some balls which were on sale at half price.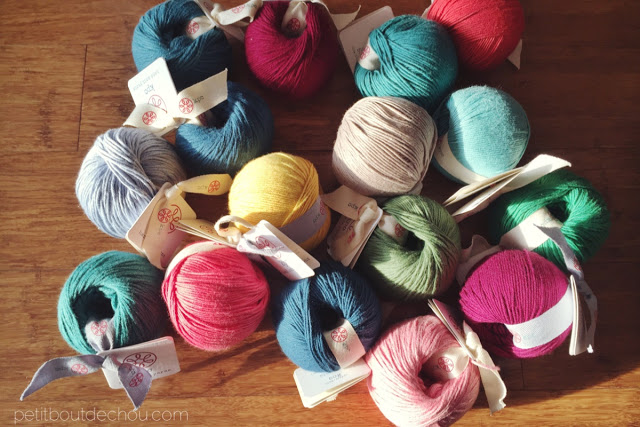 Etsy shops
I have also selected some Etsy Hong Kong based shops for craft supplies. For those who do not know Etsy yet, it is the world's biggest handmade market place where you can buy and sell vintage items, but also art and supplies…
Each shop has a rating given by the customers and a shipping policy. The rating and number of sales of the shops selected below were very good.
Make sure you let the shop owner know you are in Hong Kong for the shipping as they usually sell also abroad and can adjust their shipping price for locals.
Mr Craftsman
A great shop to find leather working tools, sealing wax, custom-made brass and rubber stamps, needles and thread.
An incredible catalog of ribbons of all sorts: satin, organza, velvet, elastic, cord, sequin…
They also have some stationery and sewing tools such as nice vintage sewing scissors.
Large selection of jewellery supplies, beads and charms. I like especially the gemstones, sterling silver chains and suede chord
I ordered at KEY HANDMADE some of the fat quarters I used on my blog. I received the order in just a few days. Great for beautiful fabric fat quarter packs but also cabochons and buckles.
Large selection of graceful lace and bead trims sold by the yard including French Chantilly lace.
I finally find some amigurumi safety eyes in this shop! You can also find other doll toy parts, purse handles and chains, rivet snaps, magnetic snaps and all kind of craft tools.
If you know other online craft suppliers in Hong Kong that you would recommend adding to this list, or if you are a craft supplier yourself, please send me a message or leave a comment below. I'd be happy to extend the list.
I have not personally tested all of them so your feedback would also be a great addition to this post in the comments below.
I hope this was helpful to you readers and don't hesitate to share with your HK friends on social media!
You may also like these posts: