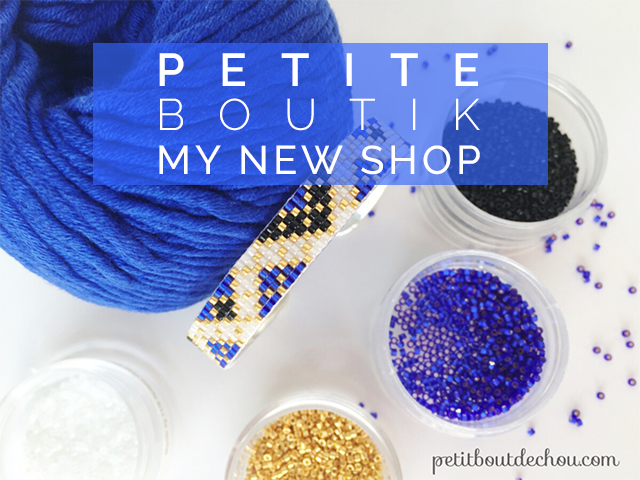 Today's post is a little bit special.
Firstly because it is my 60th post and time flies way too fast… I honestly wasn't expecting such positive feedback about the blog. Actually I wasn't expecting much when I first started this blog apart from sharing some tips and experiences about my crafty life in Hong Kong. But it has been such a rewarding experience, I would like to thank you all readers and bloggers, for your support! It also allowed me to discover many talented crafters, new crafting techniques and a fantastic community that continues to amaze me every day.
The second reason why this post is special is that, after persistent and encouraging requests from my friends and also (I must admit) a great deal of courage, I am really happy to announce that I have finally launched my own little shop on Etsy: my Petite Boutik.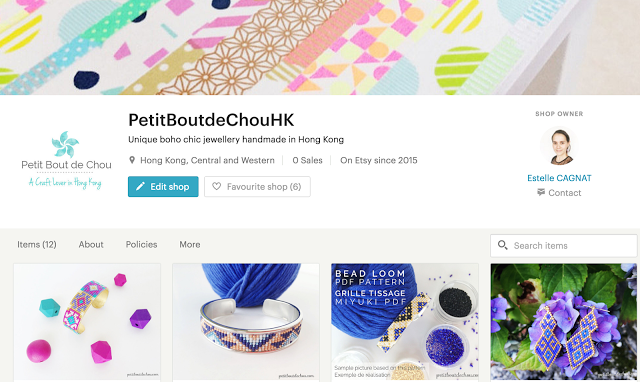 For those who do not know Etsy yet, it is a great online marketplace for buyers and sellers of handmade or vintage items but also of craft supplies!
I love shopping on Etsy as there so many original creations that you can by directly from the makers.
I already mentioned some Etsy shops based in Hong Kong in the past in my online craft supplies shopping list selling and shipping craft supplies to HK.
In the shop, you will find some original and unique handmade jewellery that you have discovered through my recent posts such as cuff bracelets made of Miyuki delica beads.
Learn how to make these bead loom bracelets in this DIY post.
You can also find some earrings that I shared in my tutorials:
the chevron Miyuki bead dangle earrings in brick stitch technique – see my DIY post
the Laotian pattern Miyuki bead dangle earrings in brick stitch technique – see my DIY post
I have also just started editing some of my miyuki bead loom bracelets patterns.
This one is already available:
I hope you will like the shop. As I am just starting, it will need a lot of love to grow!
I will add there my new creations from time to time. You can use the link in my sidebar to have access to the shop at any time.
Shipping is possible to Europe, US and Australia. I also welcome custom orders. So do not hesitate to contact me!
Follow me on Pinterest, Instagram or Facebook for more craft supplies tips, DIYs and free printables!
You might also like: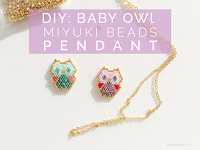 You can subscribe to Petit Bout de News my monthly newsletter to make sure you do not miss any post 😉