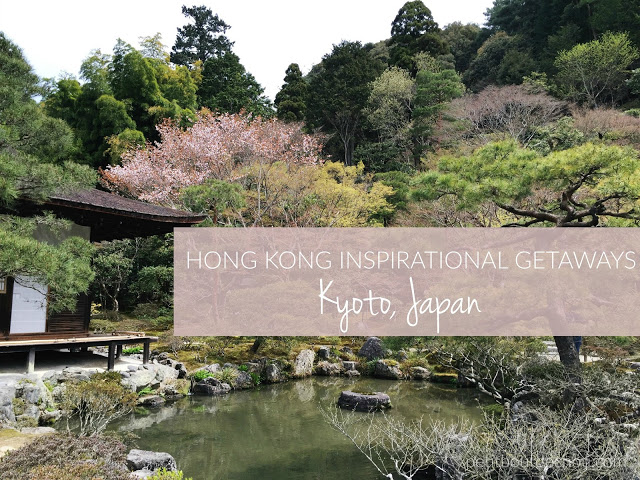 After Tokyo, my second stop in this spring Japanese trip was in Kyoto. I must say that visiting Kyoto during cherry blossom season has always been on my dream travel list! I have already been to Kyoto in May but not for Hanami, the cherry blossom viewing. You have to be there by end of March beginning of April otherwise you might just end up missing it as it only lasts about 2 weeks.
There are so many things to discover in Kyoto, I could only see a part of it and I couldn't even share them all here or this post would be very long! So I had to make a some crafts oriented choices 🙂
Kyoto is an amazing city that I love for many reasons. One of them is is its scenery. Kyoto is surrounded on three sides by beautiful mountains, from which you have a stunning view of the city.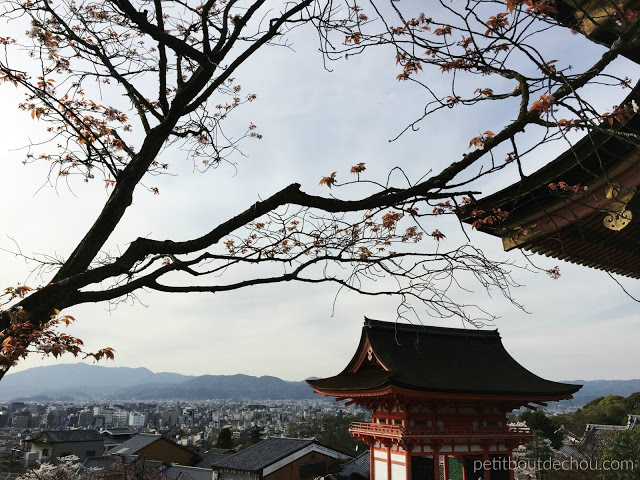 A rich cultural heritage
Another one of course is its cultural heritage represented by the many temples inside and outside the city such as the famous Golden Pavilion, Kinkaku-ji. Surrounded by beautiful gardens, these temples are peaceful inspirational places that I have loved discovering one by one.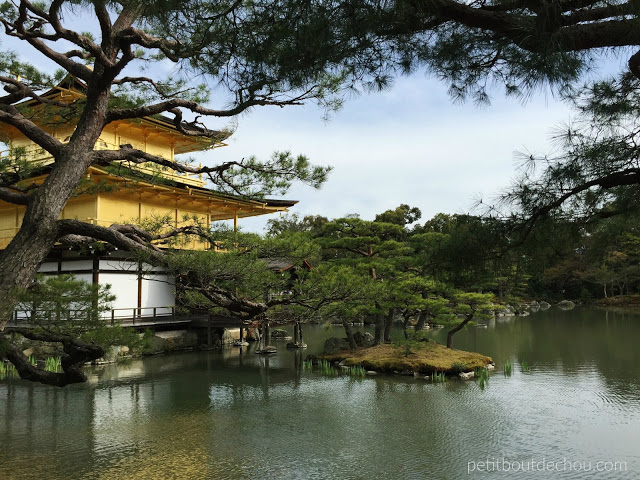 Kinkaku-ji, Kyoto
Four things I was not expecting about cherry blossoms:
1. Japanese are as mesmerized as we are by their beauty. Many come to the temples dressed in their traditional colourful kimonos offering delightful scenes to the eyes of the visitors.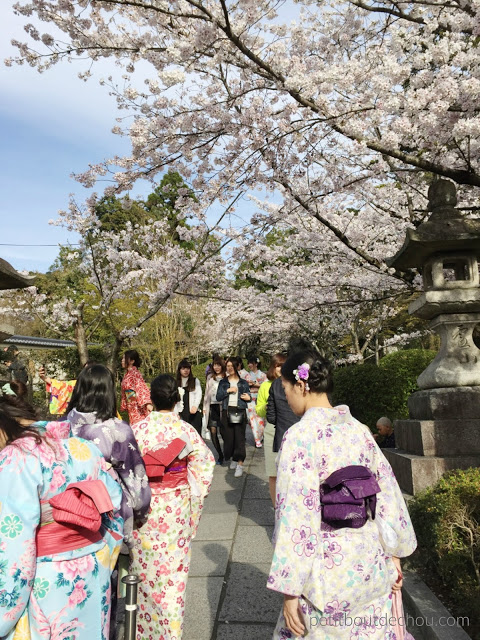 2. Japanese celebrate the cherry blossom by going for a pick-nick with their family and friends in the parks to admire the flowers for Hanami.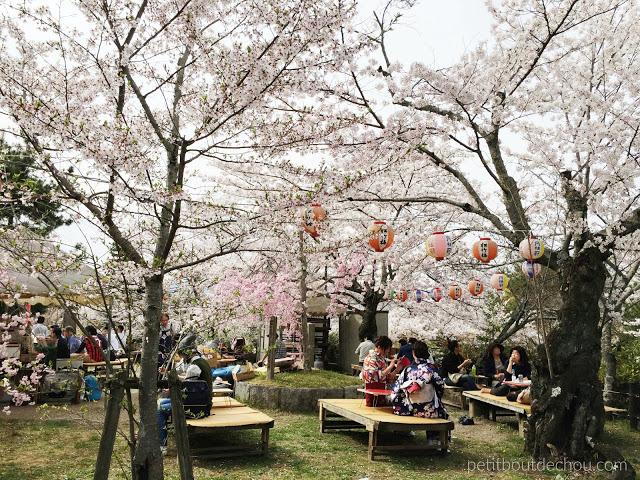 3. They are not really light pink colour as I imagined but very very light pink, close to white actually with a dark pink centre.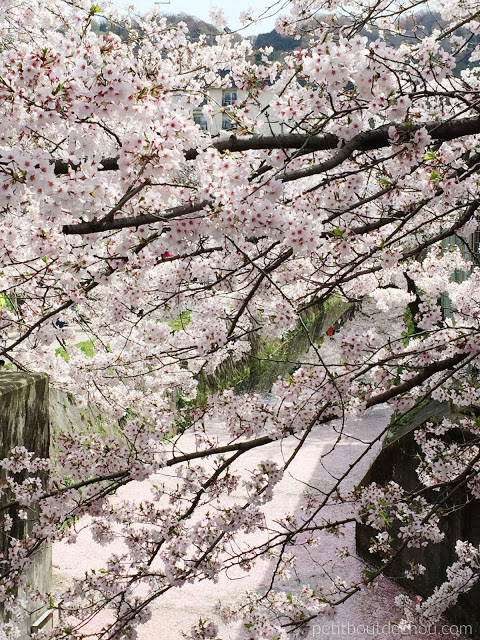 3. What I loved the most about it was not seeing the blossoms on the trees but being caught in a rain of falling petals blown by the wind… that is truly amazing and romantic!! It reminded me of the magic you feel when the snow is falling around you.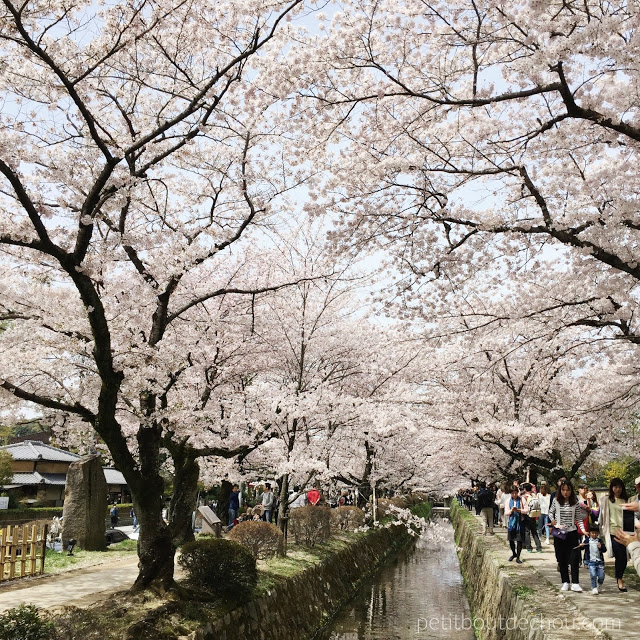 Philosophy path, Kyoto
Wonderful craft supplies
Of course, I went on my favourite hunt for craft supplies and here is what I found: if you only go to one shop for craft supplies in Kyoto, choose Tokyu Hands. This shop belongs to the famous Daimaru. It is located on Shijo dori, next to Shijo station opposite to Daimaru and the Nishiki market.
This is a great place to find any kind of craft you need! I personally got stuck in front of their huge washi tape stock! And it's a bargain at 150 yen for 10m compared to Hong Kong's prices. No need to say what you could find in my luggage on the way back…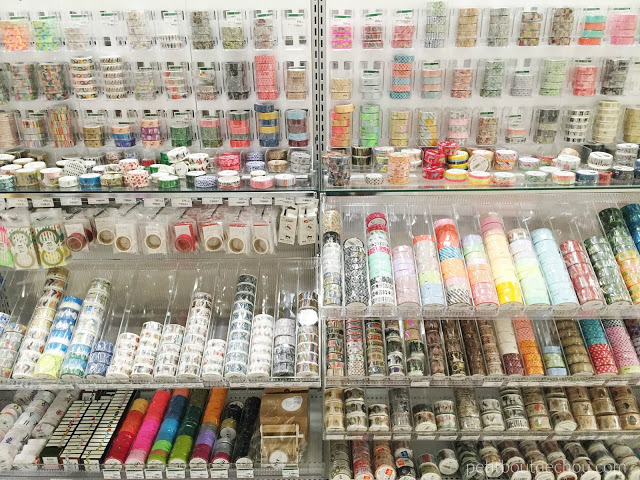 They also have loads on stickers to choose from for about 150 yen each.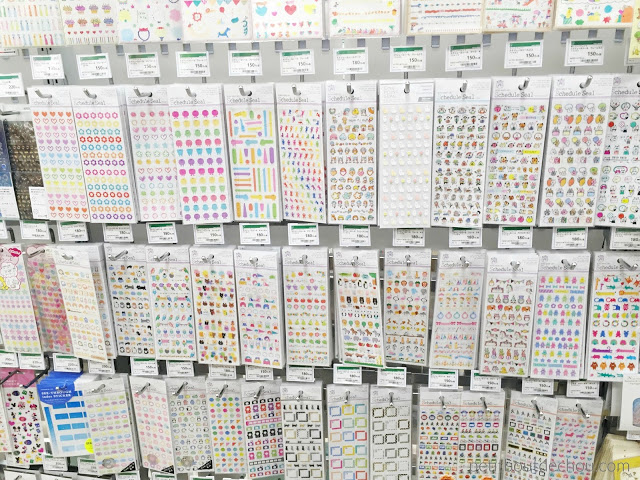 They also stock all kind of jewellery making supplies, leather work supplies, art supplies and some beautiful Japanese washi paper. And I could go on and on…
I also went to a Japanese paper shop called Morita Washi. Oh my! This was also a place where I could spend hours, looking at all those wonderful papers, colours and textures. Prices are reasonable there as well: between 500 and 600 yen for a big sheet (close to A1 format I think). They have a large selection of Yuzen and mulberry papers.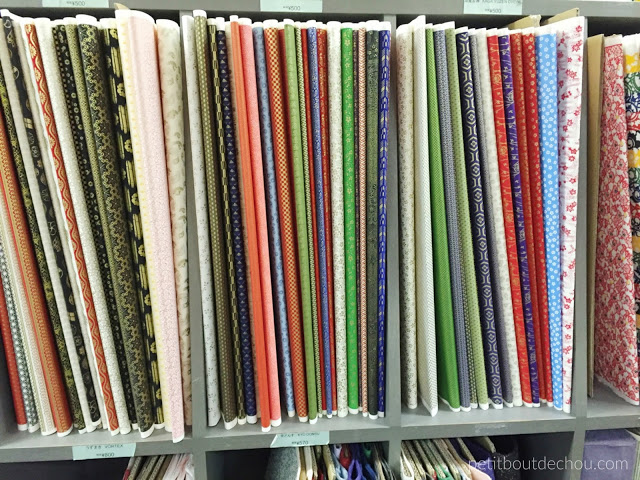 It is located near Shijo station:
1F Kajinoha Building, 298 Ogisakaya-cho, Higashinotoin-dori, Bukkoji agaru, Shimogyo-ku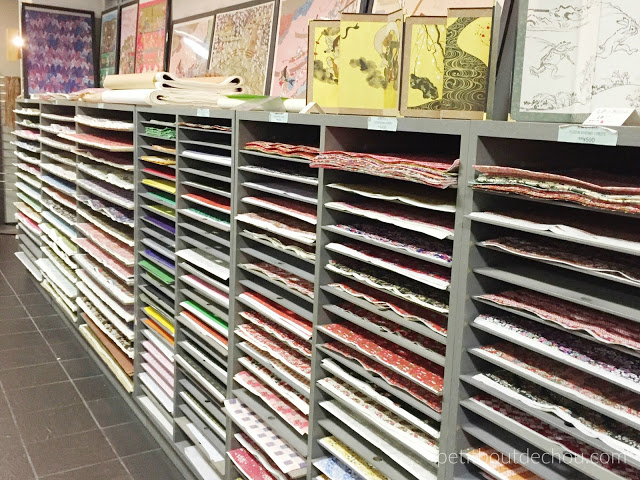 The last address I would like to mention is not in Kyoto itself but in Nara. I think many visitors in Kyoto go to Nara anyway to see the great and huge temple of Todai-ji.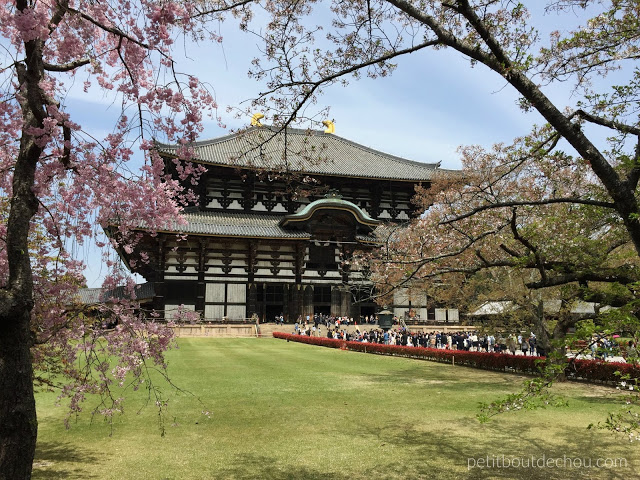 Todai-ji, Nara
But also the peaceful deer park right next to it.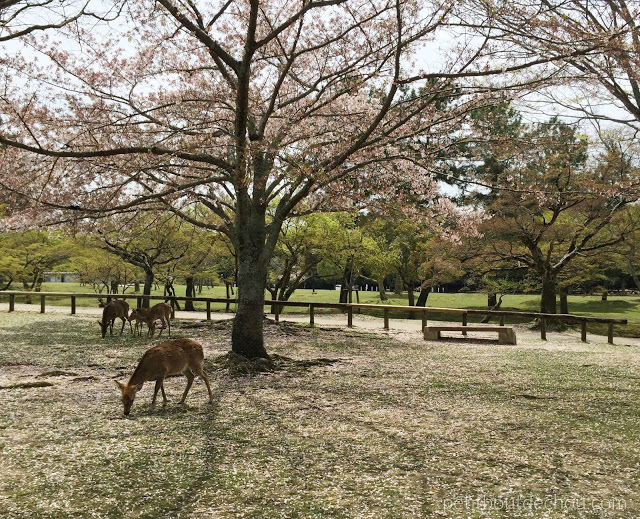 Nara park
This shop called Itotemari is selling precious Japanese fabric used to make kimonos, accessories and sashiko embroidery kits. I was really happy to find some. The shop is very close to Kintetsu Nara station just across the street (sanjo dori) from the famous shop where you can see the hammering of the matcha rice paste to make delicious red bean mochis.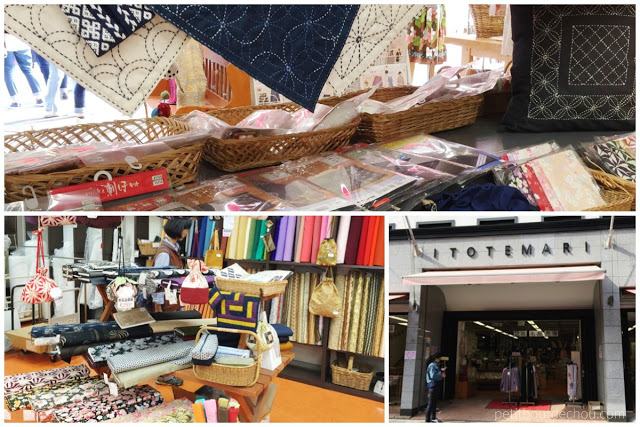 You will also find many shops in the beautiful narrow streets of Sannenzaka area selling Japanese fabric as souvenirs, especially in the form of handkerchiefs. Some are quite cheap so worth buying a few to make an original craft project!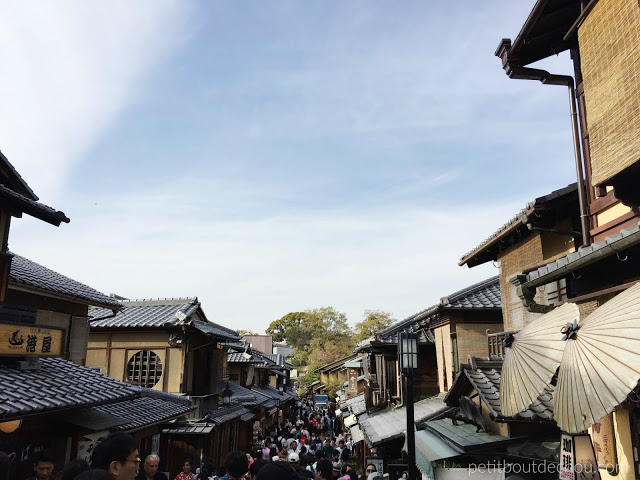 Sannenzaka, Kyoto
One more picture I would like to add: plum blossom from the Nijo Castle in Kyoto.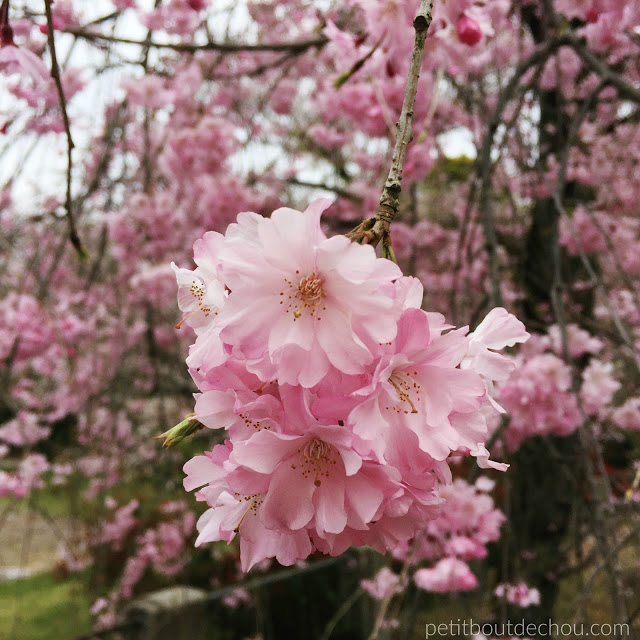 You can find my tutorial to make tissue paper plum blossom here.
Or have a look at my previous Hong Kong inspirational getaways:
I hope you enjoyed this inspirational getaway. If you did, follow me on Pinterest, Instagram or Facebook for more getaway tips!
You can also subscribe to Petit Bout de News my monthly newsletter.
Happy travels!