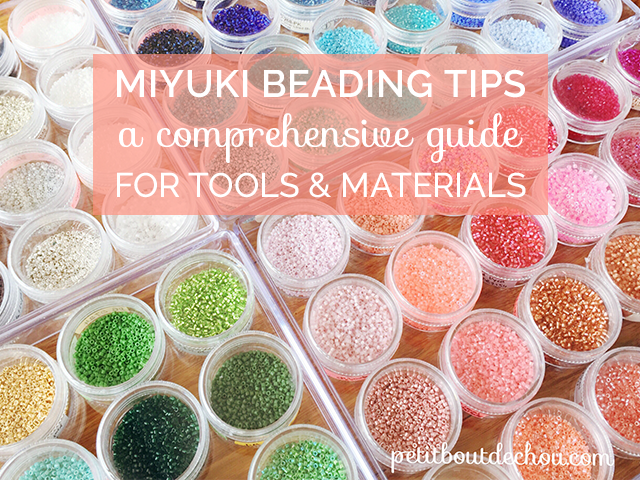 Whether you are a beginner or a confirmed Miyuki delica bead lover, this guide will help you choose the right beading equipment and discover great tips for your beading activity.  I wanted this guide to be as exhaustive as possible so I have also added a little glossary with the description of each type of Miyuki delica 11/0  you can find.
Here we are mainly talking about beading with a needle using the brick stitch or the peyote stitch but this also applies to the bead loom technique apart from the loom.




You can find more info about these various beading techniques with Miyuki delicas in my previous posts:
This post is the result of a great & fruitful discussion between my Instagram community of bead lovers. I would like to thank all the participants for sharing their tips.
The very essentials
Beading thread
The thread is made of 100% nylon filaments and is pre-waxed, strong, non-stretchy, tangle and fray resistant.
These great properties allow you to cut the thread and the cut end will stay together so it is easier to thread your needle.
Also, in the past I have tried to use normal nylon thread but it was stretchy and the result on the beadwork was not regular and flat.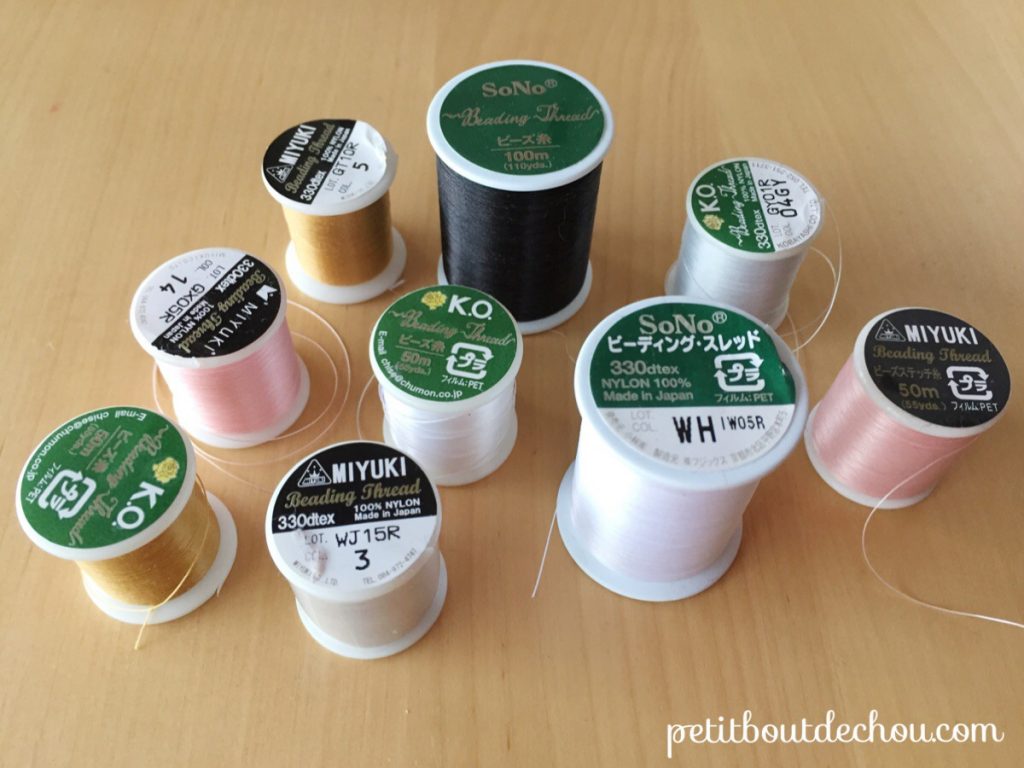 SONO thread 100m – 0.20mm – 4 colours
K.O. thread 50m – 0.25mm 18 colours available
Miyuki thread 50m – 0.25mm 18 colours available
Beading needles
Beading needles Miyuki brand   0.4mm diameter needles around 50mm long – You can start with this affordable  small set of 6 needles.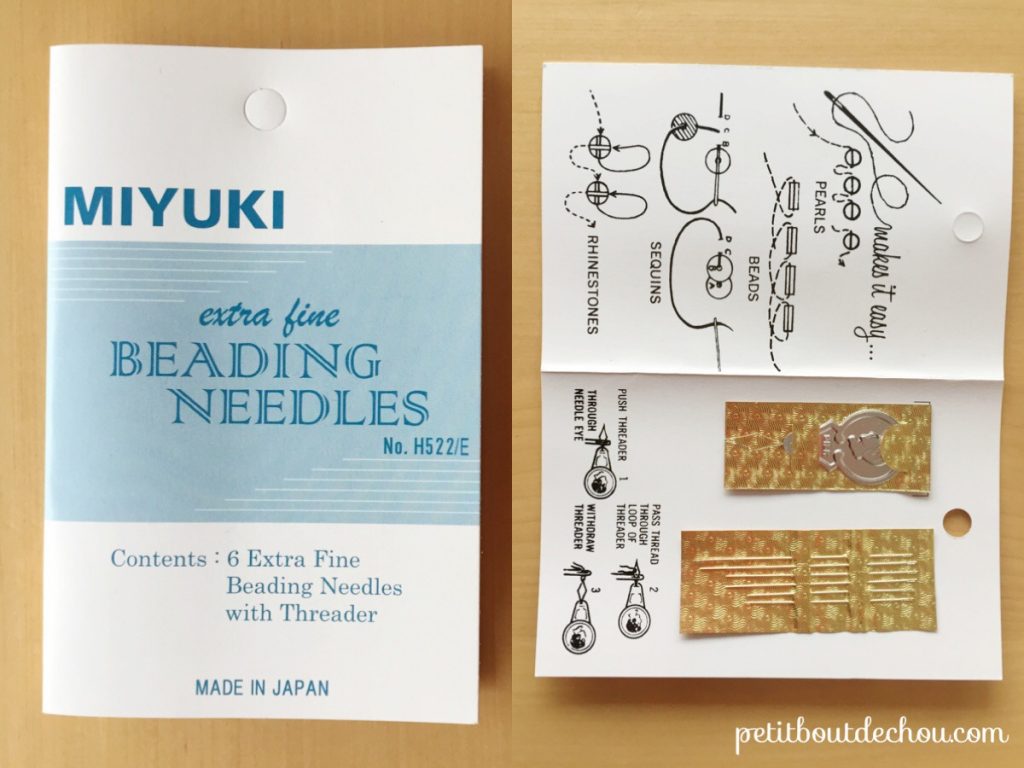 Miyuki delica seed beads 11/0 (DB)
These Japanese beads are known to be the finest glass seed beads for their extreme regularity. Their quality and extensive colour palette is simply extraordinary. They are the ideal beads for any peyote, brick stitch or loom project requiring consistency in the beads size.  The large diameter of the center hole enables you to pass your needle and thread through the bead up to 5 times without breaking it.
There are more than one thousand references of colours of Miyuki delica. Perlesandco.com has a great selection of these beads.
Dimensions:

1.60mm Outside Bead Diameter
 1.35mm Long (hole to hole)
0.80mm Inside Hole Diameter
Glossary:
The name of the bead colour will  give you an indication on its appearance as the pictures does not always reflect the real colour of the beads. Here is a little guide or glossary to understand the different types of Miyuki delica beads:
opaque: solid colour => light is not going through the bead

DB 0793 Turquoise Opaque

transparent: allows light to shine through

DB0786 Transparent matte turquoise

AB: light rainbow reflects finish

DB 0166 Opaque green light AB

DB 1283 Transparent AB Matte tropical teal

luster: shiny white finish
matte: does not reflect the light, finish is less shiny
inside colour (colour-lined): colour is applied inside the hole of the beads and the surface layer is clear
silver-lined: silver plated inside the hole of the beads with a transparent coloured or clear outer layer => these are among my favorites to give a chic finish to your creations

DB1342 Dyed silver lined raspberry

dyed: dyed colour is applied on the surface of beads => vivid and bright colours

Dyed opaque bright purple

galvanized: plating applied on the surface of beads => duracoat galvanized are better to protect the coating and keep the beads aspect longer.

DB 1839 Duracoat galvanized dark coral

silk: satin white finish => pale colours palette with satin finish

DB0635 White satin

ceylon: opalescent beads with a pearl luster finish or inside colour

DB 0249 Purple ceylon

duracoat: durable clear coating for outside dyed or galvanized beads. It is thicker and stronger coating than traditional one
metallic: iris coating or bronzed luster glazed which gives a very reflective coating
The essentials
Beading mat ( foam), felt sheet, or a fabric placemat
These options should prevent your beads from rolling everywhere.
Bead mat from Beadalon A4 format – set of 3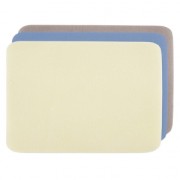 But if you are moving to different locations during your beading time, you also need a rigid support. This can be a simple tray, a shoe or scarf box lid, or even an ikea breakfast tray which is a great option apparently for beading in bed or in your sofa!
Storage boxes
Many options are available: circular boxes, tic tac rectangular boxes, tubes… I personally  prefer circular boxes which I find prettier and allow easy trials of colours matching thanks to their transparent lids.
You can find the one I use : a  rectangular transparent box of 24 small circular boxes in my Etsy shop, here.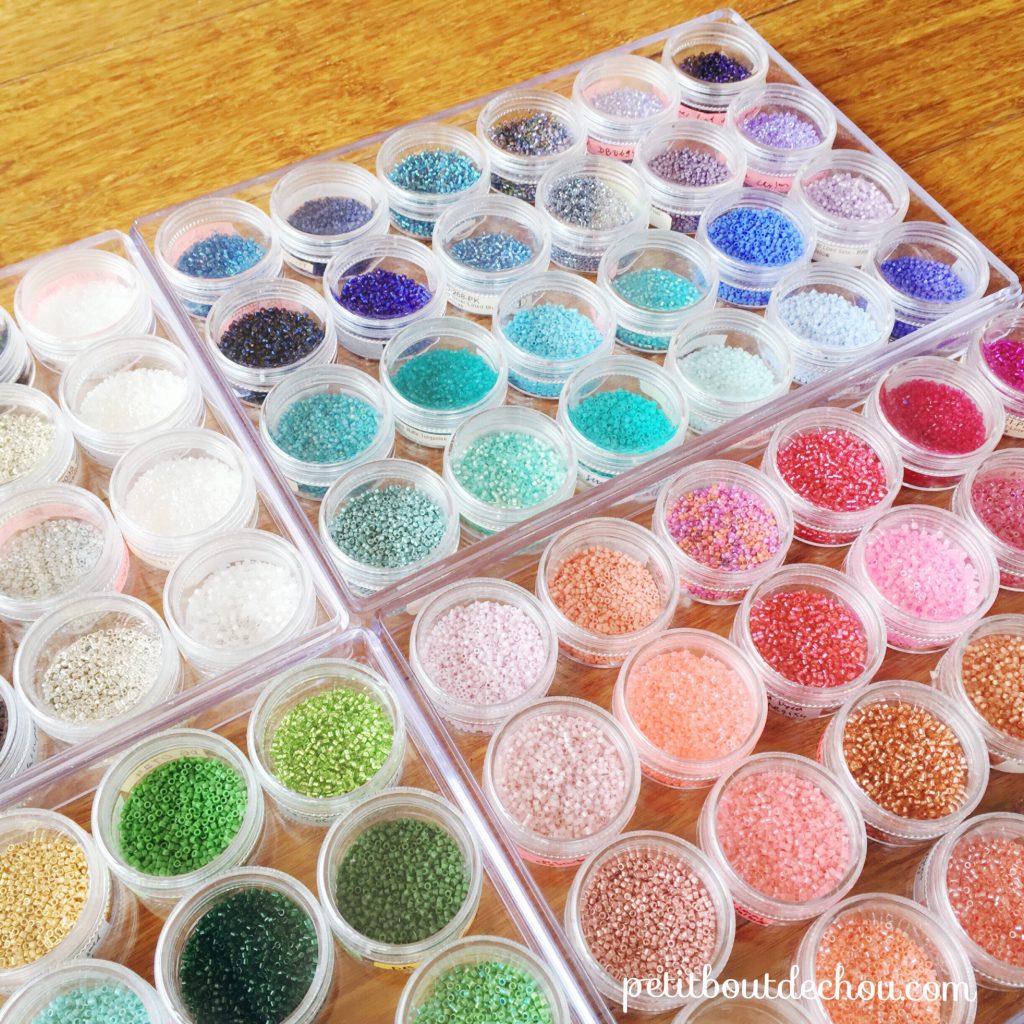 One advantage of the "tic tac" boxes is that they are rectangular in shape and therefore will take less space for storage. You can even use a small briefcase to store them and bring them with you on the go.

Transparent jewellery glue
Hasulith brand is a well known one. Use it to fix your beadwork on a support (cuff bracelet or brooch support for example) or fix knots on a clasp ends.

The other useful beading material list: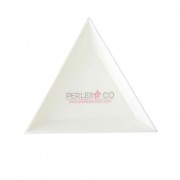 Small thin blade scissors or even a scalpel to cut the excess of thread close to the beads
A satin varnish to protect the colours in time and make them more rigid so they break less (as they are glass beads, they can break in case of a choc for example)

Jewellery pliers set – i use mine all the time to fix my beadwork on a chain or on earwires. It is made of some flat nose pliers, round nose pliers and cutter pliers.
A blank beading grid and coloring pens to prepare your designs: see my tutorial to create your own beading grid notepads.
For the beaders on the go:
This special briefcase style beading mat & trays from Bead buddy is ideal to keep your beadwork and beads in place from one location to another.
This post contains affiliate links. I do receive a small fee for any products purchased through these links that goes towards the support of this blog and provide useful and free info to you. This material list would be the same with or without compensation and comes from my own experience and judgment.
I hope this guide will be helpful to you. I have tried to gather all my knowledge  on the subject here. I am willing to add more info here according to your comments and suggestions so please share your own experiences and feedback below in the comments!
Please visit the "beading" category to discover my tutorials and free beading grids.
Follow me on Pinterest, Instagram or Facebook for more craft supplies tips, DIYs and free printables.
Subscribe to Petit Bout de News my monthly newsletter to make sure you do not miss any post 😉