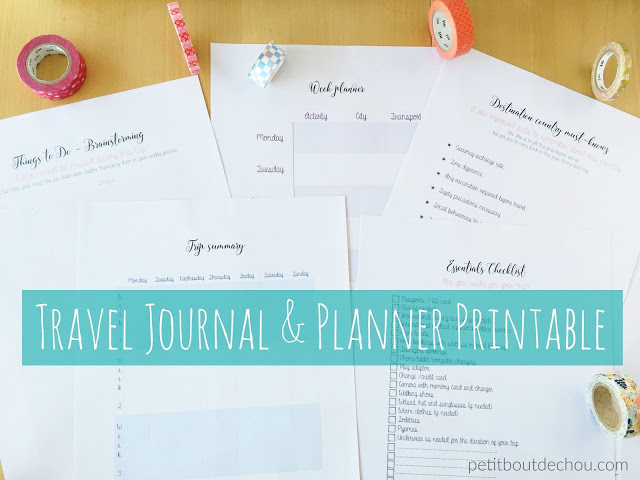 Since I live in Hong Kong, I have been lucky enough to travel all around South-East Asia. As I am currently planning my next trip to Japan, I thought it would be a great occasion to prepare a printable travel journal and to share it with you.
I tried my best to gather in this 17 pages printable travel journal and planner all the info needed to plan your trip but also to collect your memories in a hassle-free way… Because I know that once you are back from a trip, you often do not have time to make this great journal that your memorable trip would deserve. At least, I trust this is the case of many of us, busy people!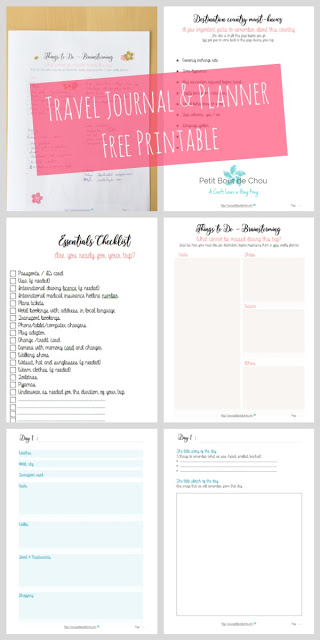 So the purpose of this journal is to remind you the essential questions, to help you collect your memories in a few minutes every day of your trip and build this journal progressively.
I tried to keep it simple and minimalist so that you can customize it as you like.
HOW DO I GET THIS TRAVEL JOURNAL PRINTABLE?
You can download it here now.
Or you can find below some details of the journal below to describe what you can find in it:
Stage 1: Planning before your trip
Trip Summary
This page gives you a 4 week overview to see your trip at a glance.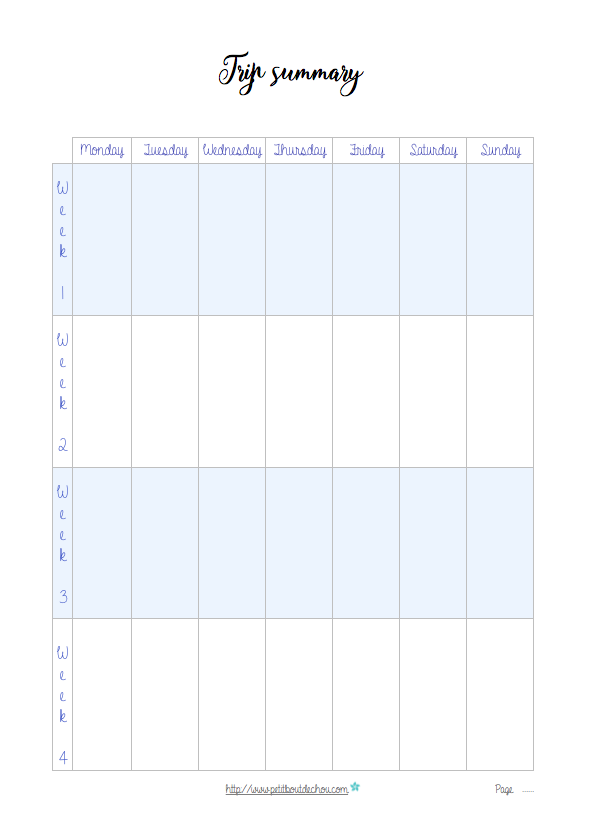 Destination country must-knows
Fill this page before you go, to avoid bad surprises.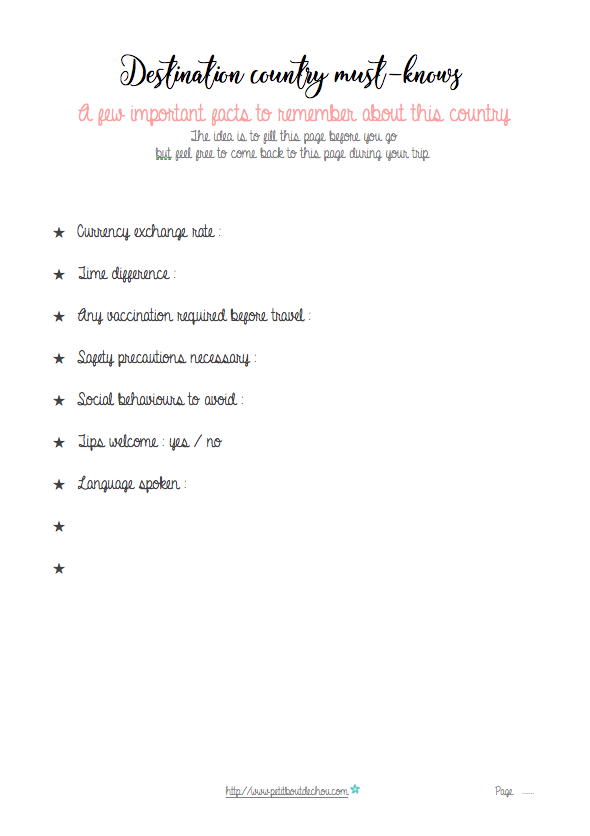 Essentials checklist
Trip after trip, I always check the same things. So I guess if there is only one thing to do before a trip, it is definitely following this checklist. I have often forgotten essentials in the past, one of which was a visa…
I have left empty spaces in the list, as I am sure everyone has special essentials!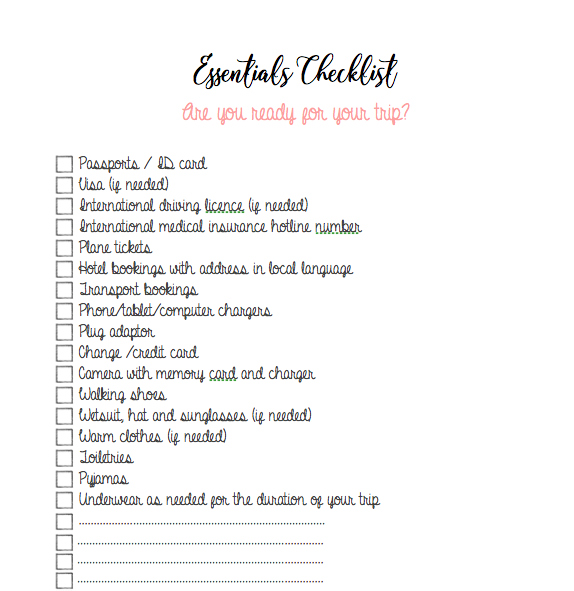 Things to do
For every trip you do, you usually want to do more things than it is humanely possible to do…
The purpose of this page is to sort the things that you cannot possibly miss: visits, restaurants, shopping, anything you fancy…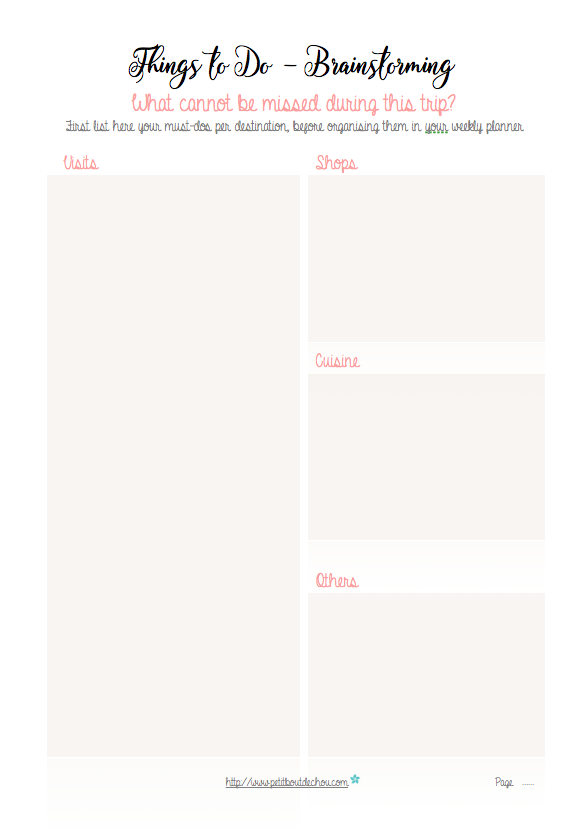 Week planner
Once you have all the things to do in mind, print as many week planner as needed and start filling your weeks.
You can also add there the city where you will be staying and any transfers needed that will occupy a part of your schedule.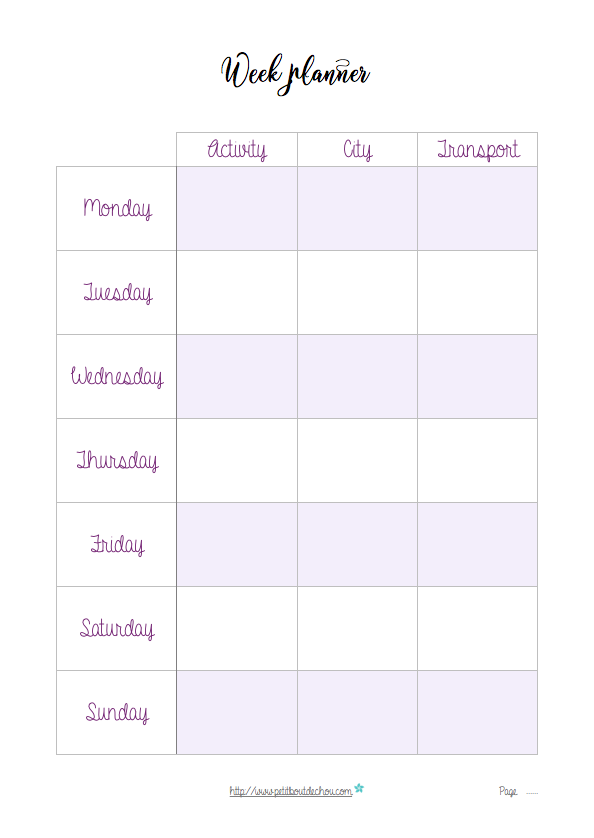 Stage 2: Journal redaction
You are now ready to go!
But just before that, according to your trip's number of days, you can print the corresponding group of 4 pages of your daily journal.
The daily journal starts a page to collect infos of the day: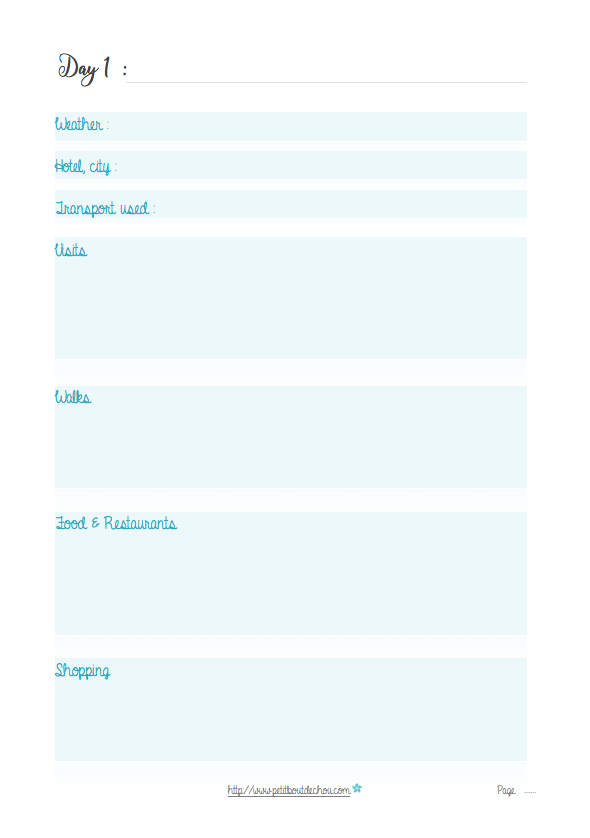 The second page is about anecdotes of the day and sketching. Or you can use this space to stick any image you liked if you are not into drafting.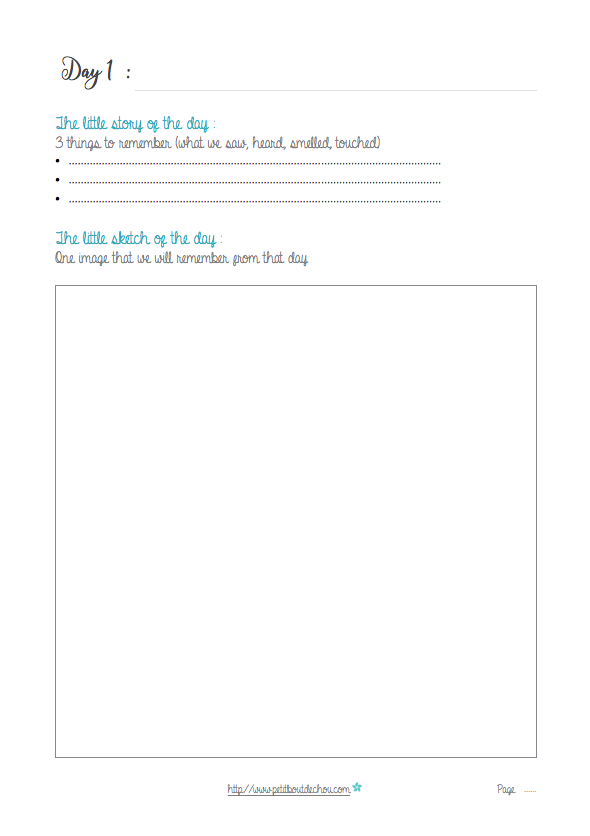 Finally, you have 2 pages for memories collection and scrapbooking. I suggest using stickers, postcards, washi tape, tickets, maps etc. to customize this page.

You can always print more/less of these pages and use them as needed.
Personally, I will print these pages on 120g paper and use a clearbook to bring them around during my trip.
Once I get my pictures printed, I will add them with washi tape. Then I will bind the page using the Japanese stab binding technique I have used in my previous post.
I will update this post with the pictures once I am back from Japan, so stay tuned!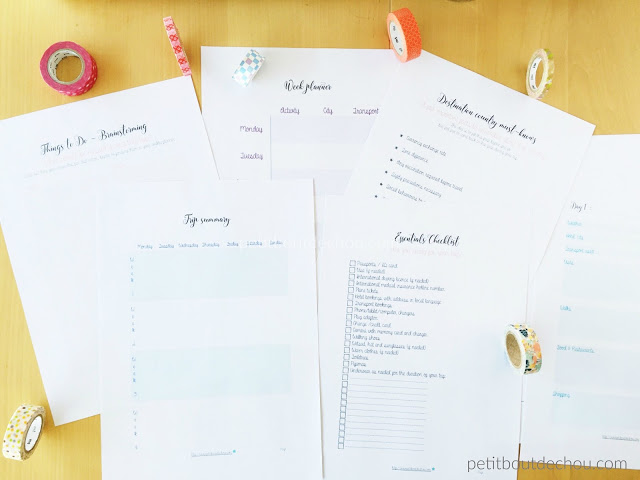 I hope this travel journal & planner printable will be useful to many of you!
Let me know your feedback, if there are other essential pages I have missed… I am always listening to your constructive comments.
And of course, my Japanese trip will be in my next post for the Hong Kong getaways series.
In the meantime, I hope you enjoyed this free printable. If you did, follow me on Pinterest, Instagram or Facebook for more tutorials and freebies! You can also subscribe to Petit Bout de News my monthly newsletter.
Happy travels!