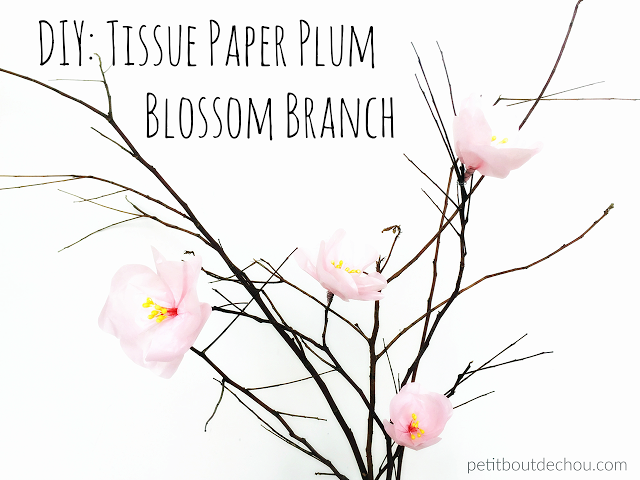 Spring time is finally coming but the weather is not really keen on following the calendar this year in Hong Kong! So in order to bring a bit of spring spirit in our houses, I have prepared this plum branches tutorial with tissue paper. You will see it is fairly simple and quick to do even for you, busy readers!
Supplies needed
Tissue paper
Flower stamen – I found them in Sham Shui Po
Branches – I picked mine in the garden
Acrylic paint and paintbrush
White paper glue
Wire
Pliers to cut and twist the wire
For a list of craft stores in Hong Kong, see my posts about:
DIY steps
1. Paint your flower stamen
If like me you only have white stamen in stock, you just need to paint them using acrylic paint. If you already have the colours needed, skip this and go to step 2.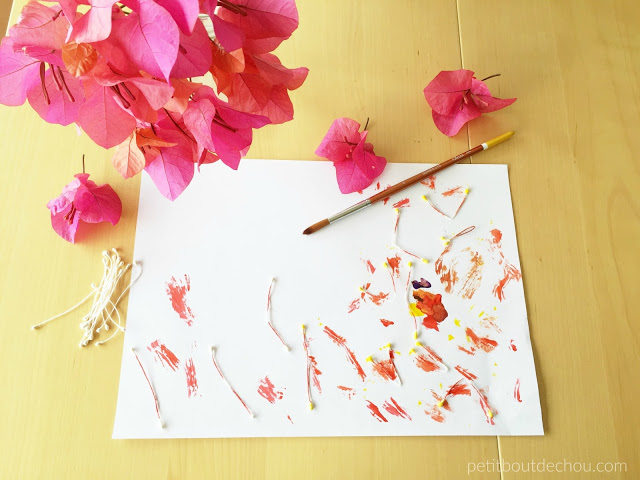 I have used yellow for the "seed" end and pink for the filament.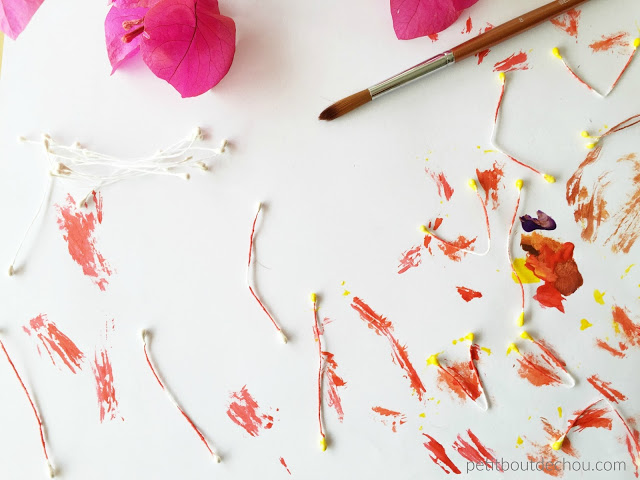 2. Prepare the petals
Each flower is made of 5 petals. The shape is a bit like a heart cut at the bottom as you can see below.
You will need also 4 stamen.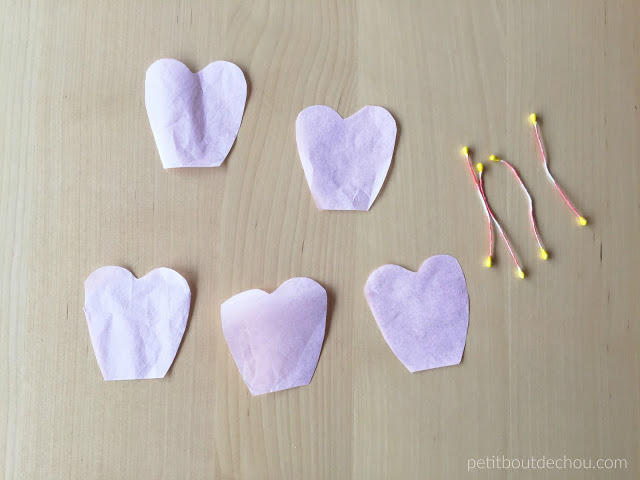 Give shape to the petals by rolling the bottom part between your fingers while holding the upper part with your thumb. You should get something like this: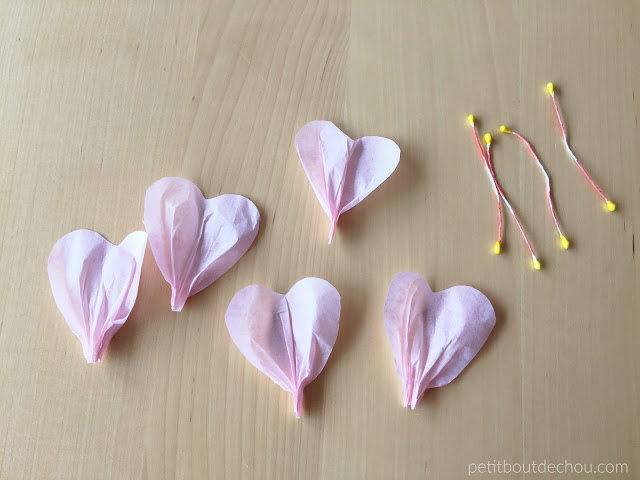 3. Assemble the petals and the stamen
Start by folding the stamens in two and keep them together.
Take the first petal and position the stamens inside, glue together.
No need to put a lot of glue here.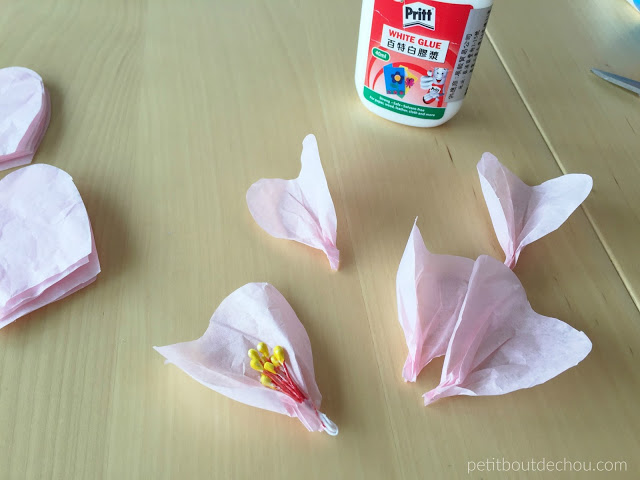 Then, continue gluing the petals one by one around giving more shape to the flower for each new petal added. And here is your flower: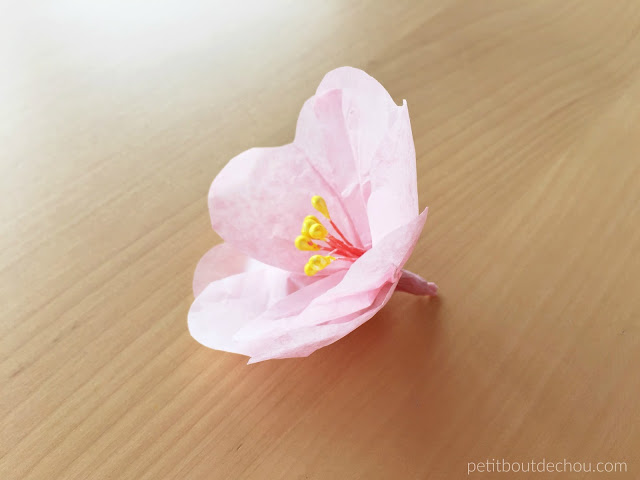 4. Fix flowers to the branch
Once you have prepare as many flowers as you want to fix on your branch, check its shape and spot the best locations to fix your flowers.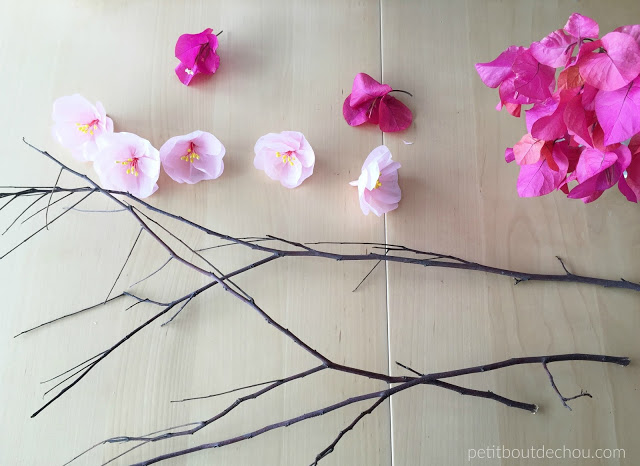 Then wrap your wire around the base of the flower and wrap it around the branch.
To make a cleaner finish, you can then warp the wire with some brown tape to hide it.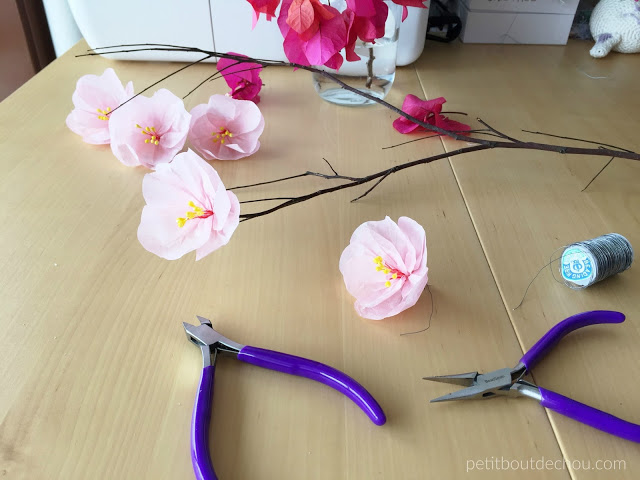 You can then place your branch in a vase to decorate your home with this chic Japanese spring touch.
Here I have used a beautiful blue bottle of Perrier with some washi tape.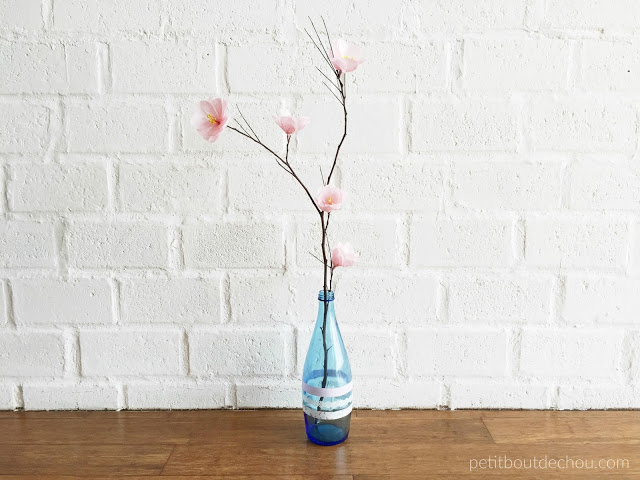 I hope you enjoyed this spring tutorial. If you did, follow me on Pinterest, Instagram or Facebook for more tutorials and freebies! You can also subscribe to Petit Bout de News my monthly newsletter.
Happy crafting everyone!