As a creative, I am always looking for some new ways to wear or use my creations in my daily life. Styling your clothes or shoes is one of the possibilities to do so. I made a tutorial this summer to explain how you can customise your flat shoes with embroidery. Today, I would like to show you how you can add style to any dull collar shirt, cardigan or v-neck sweater by creating a simple chain collar brooch.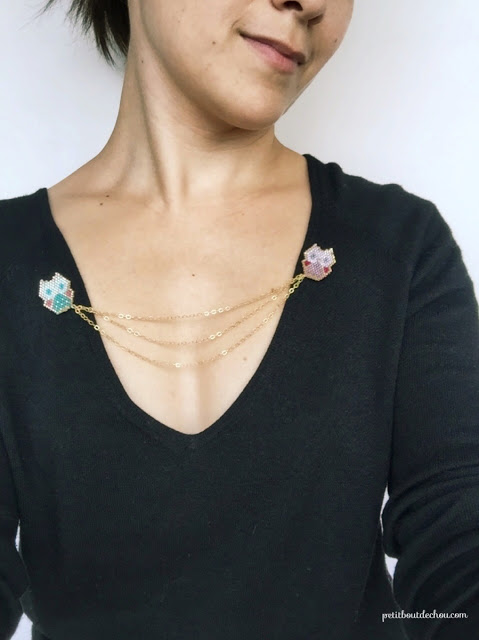 Supplies needed:
Metallic chain – I used a gold plated one but you can use any "gold colour" chain or any type of chain you think would look great with your outfit! For the length, just make sure you can make a triple chain.
2 jump rings 0.3 mm diameter in gold colour – 3mm size
2 safety pins – the size should be smaller than your brooches'size of course so they are hidden behind
Jewellery glue
Jewellery pliers
A little piece of felt
The two items you want to transform into a brooch – in my case two brick stitch beadworks – you could also use existing brooches you have, buttons, magnets…
A fine beading needle – optional I use it here because I am using beadworks
Beading thread – optional I use it here because I am using beadworks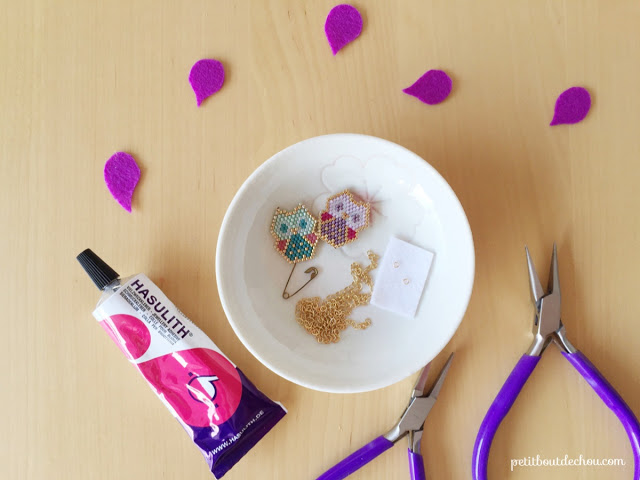 I am using two brick stitch beadworks that I made some time ago and were supposed to be mounted as pendants in the first place. If you are interested in the brick stitch beading technique, discover my tutorial about how to make these cute baby owls using Miyuki delica beads yourself, a free pattern is available.
In the end, I didn't make the pendants as I did not want to separate the cute owls, they look so great together and I came with this brooch idea. So let's start making it with some easy steps.
DIY steps:
Cut your chain in 3 lengths with increments of one centimetre between each (for example I used : 15cm, 16cm and 17cm) according to the look you want  to achieve on your garment.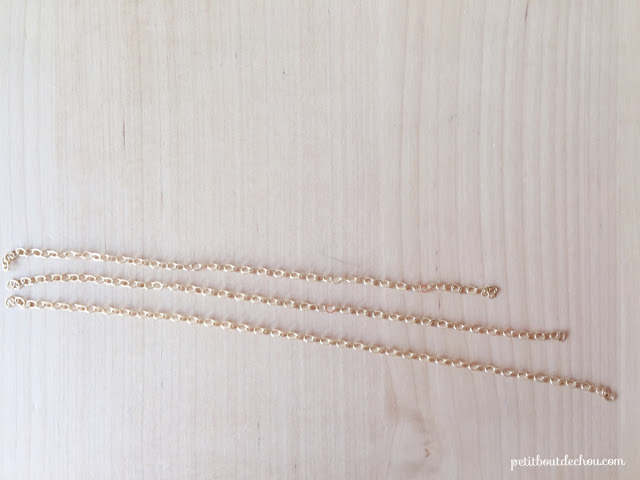 Use your jewellery pliers to open one jump ring and insert it in the bead located at the bottom corner of your beadwork.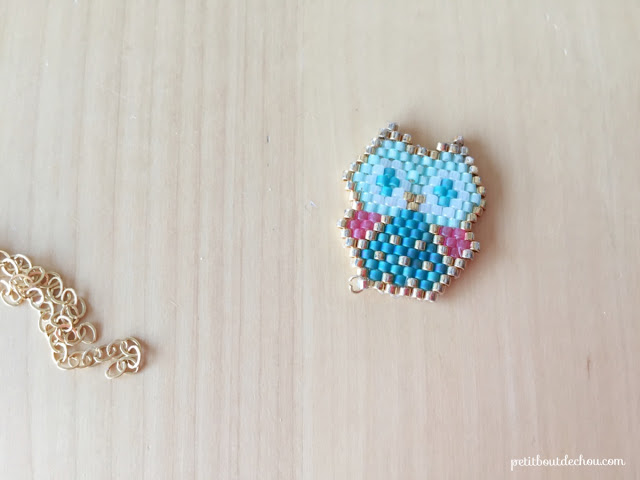 Insert the 3 ends of your chains in this ring and close it using the pliers.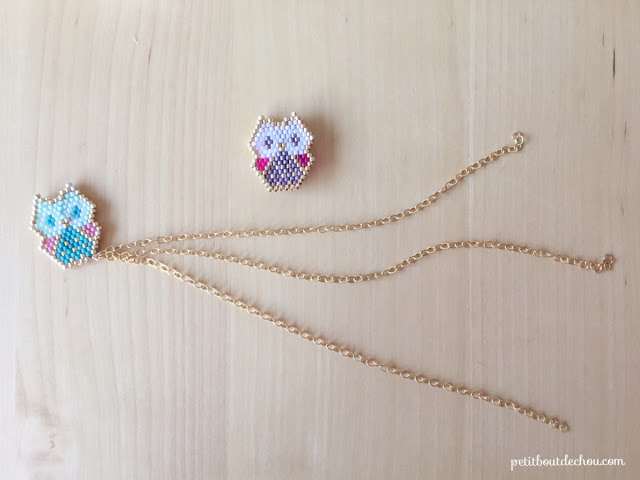 Repeat on the other side with the other owl, placing the ring on the opposite bottom corner of course.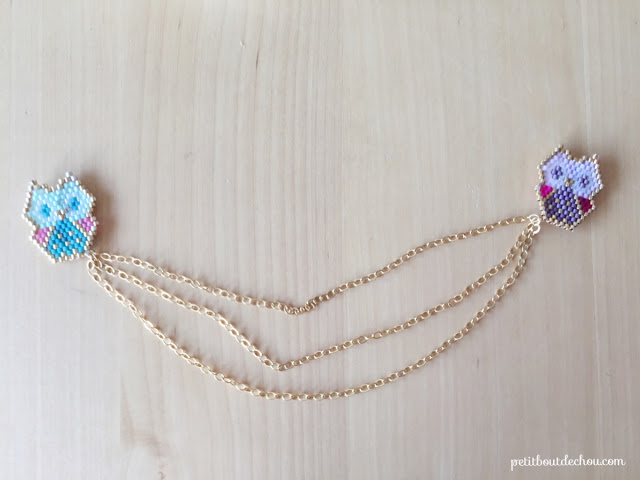 Now prepare the brooches by stitching your safety pin on the beadwork using your beading needle and thread. Simply go trough the beads on both sides of the safety pin until it is tightly fastened to the beadwork.
To make sure it won't move, use some jewellery glue and apply it between the safety pin and the beadwork. You can use a piece of felt or fabric to hide the thread and the glue (optional).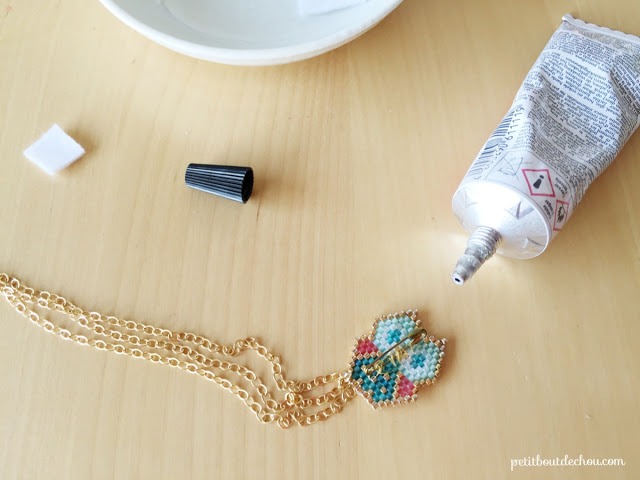 You are done, you can now just pin your brooches on your collar, cardigan or v-neck sweater to add a personal touch to your outfit.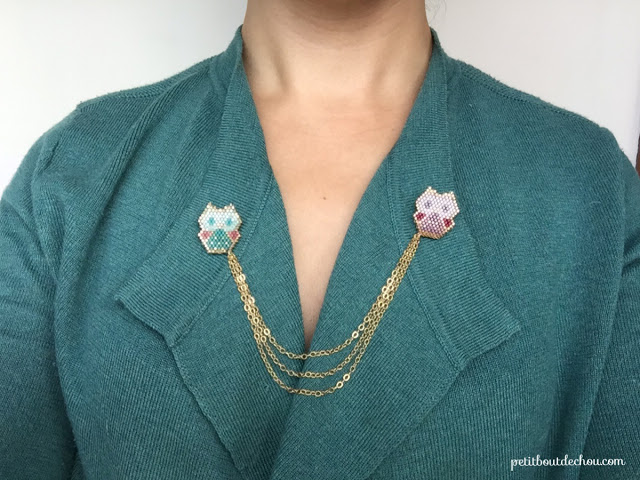 I hope you enjoyed this tutorial. You can make many variations of this tutorial using different materials, colours, type of chains, type of pins or brooches. I would be very interested to know which type of brooches you made for which garment so leave me a message in the comments below.
Follow me on Pinterest, Instagram or Facebook for more craft supplies tips, DIYs and free printables!
You might also like: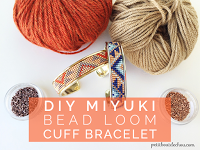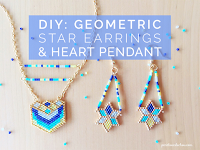 You can subscribe to Petit Bout de News my monthly newsletter to make sure you do not miss any post 😉