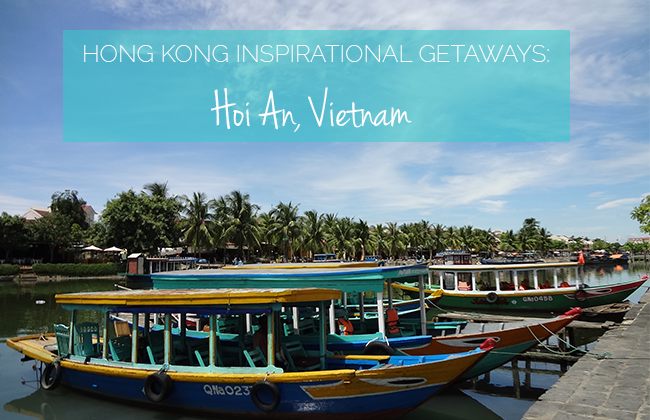 I am happy to launch today a new series of posts about another passion of mine: travel.
Living in Hong Kong is a fantastic opportunity to discover South-East Asia. I must say that each time I travel I come back with tons of new ideas. Discovering new cultures opens my mind and is always a great source of inspiration.
This is the reason why I have decided to start this new series about inspirational getaways, hoping this will bring you fresh ideas and encourage you to go explore new horizons as well!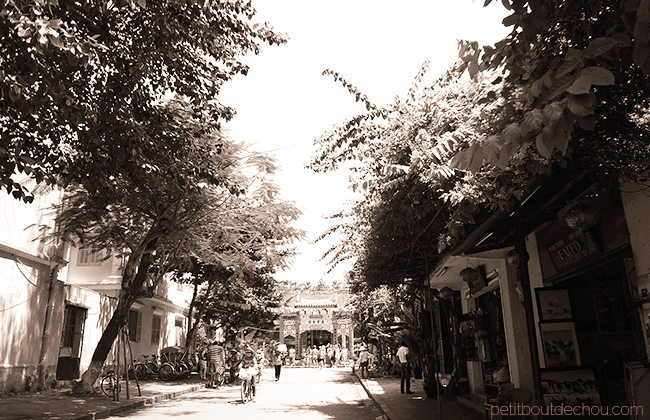 With only 1h30 flight from Hong Kong to Da Nang international airport, and a 45 minutes taxi drive to reach Hoi An, this place is a Hongkongese weekender's heaven.
From the magnificence of the endless beaches to the rich cultural heritage of Hoi An ancient city and My Son holy land, you will have plenty to see on a 3 days trip.
The big bonus is that Hoi An ancient city is a fantastic inspirational place.
There are wonderful colors everywhere:
the beautiful greens of the trees and the rice fields,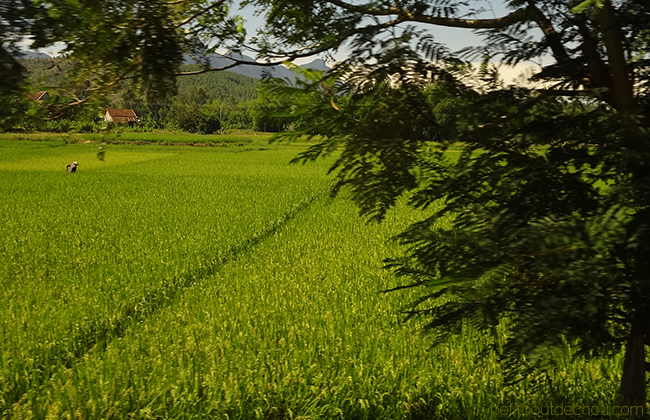 the browns of My Son holy land temples' bricks,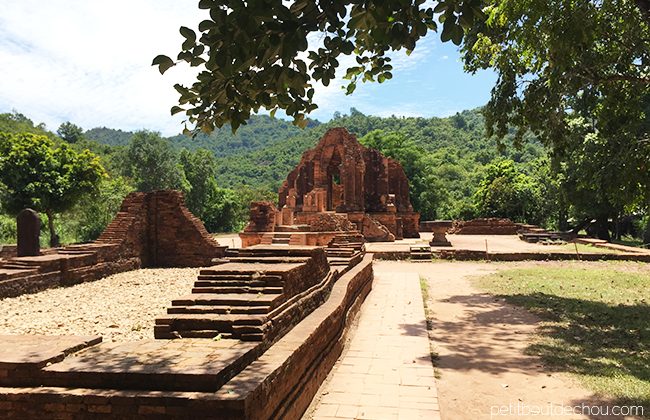 the yellows of the ancient town buildings' facades,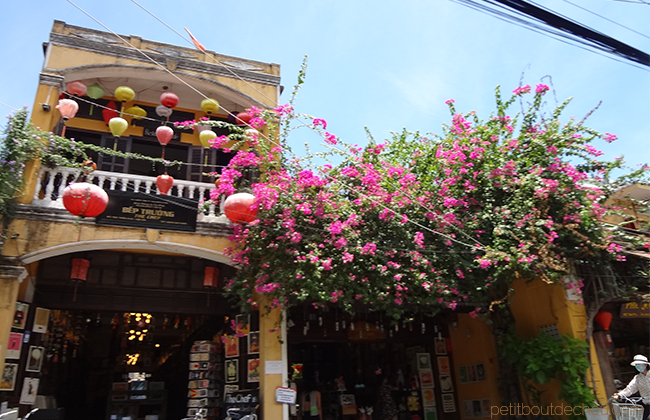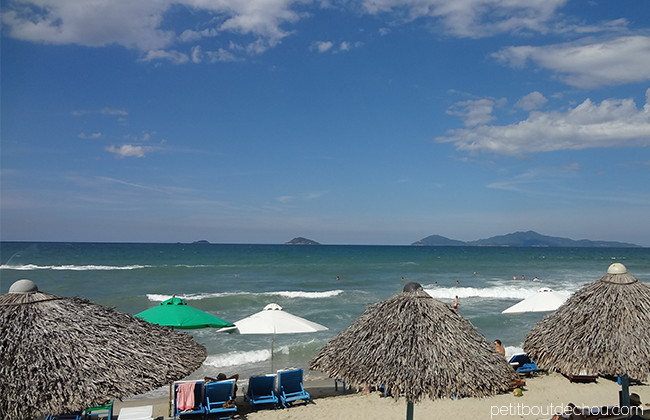 the white and pink of the amazing lotus and frangipani tree flowers
the red of the lobster claw flower (bec de perroquet in French)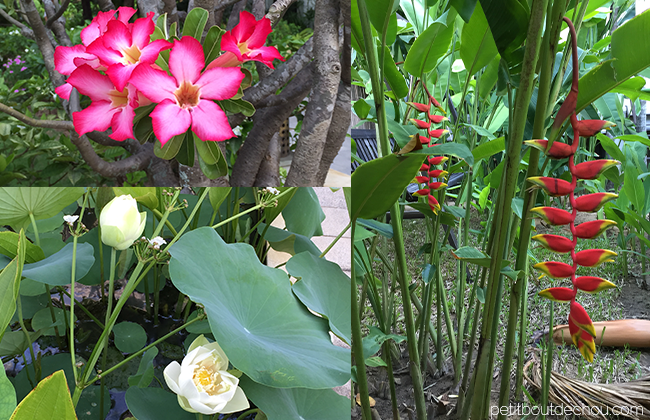 the delightful mix of colors from fruits and vegetables on the market stalls and in your plate!
Of course you will also find many shops in Hoi An and a lot of them are selling handicrafts like embroidery on cotton fabric, wood carving, painting, …
One of the specialty in Hoi An is the wooden lantern.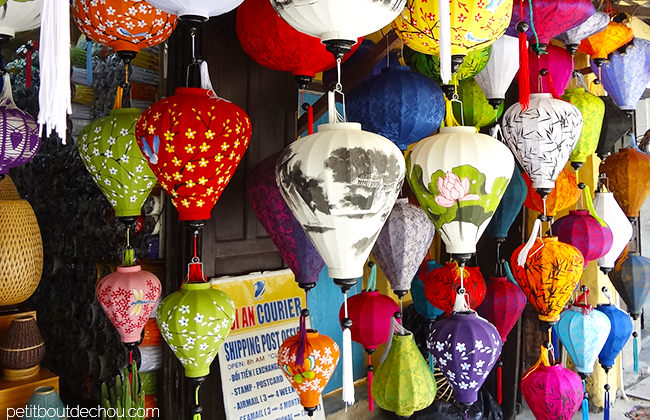 There are full moon lantern festivals throughout the year in Hoi An. On these nights, all the electric lights are turned off and the lanterns light up the ancient city.
The remaining full moon dates in 2015 are:
26 September 2015
26 October 2015
25 November 2015
24 December 2015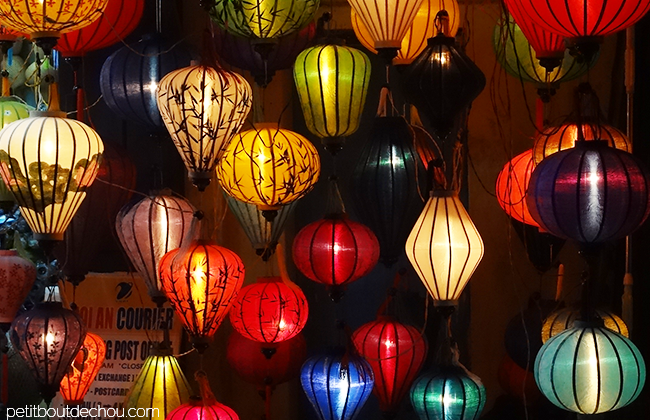 They also make some nice lacquer coconut eggshell bowls as I have seen in other cities in Vietnam. I find them really pretty and would love knowing how to do this! I will have to investigate about that…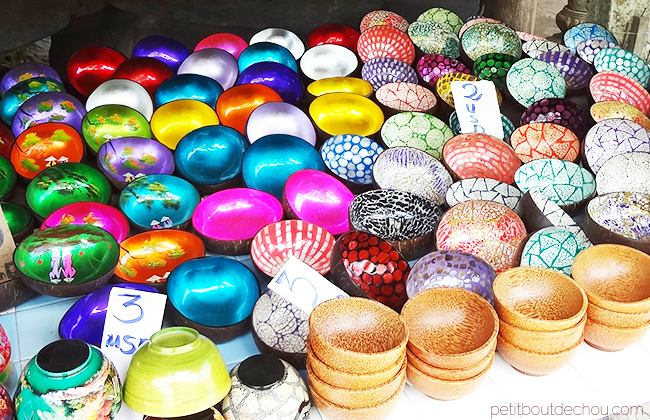 I also visited a local workshop of mother-of-pearl marquetry which requires a very delicate craftsmanship.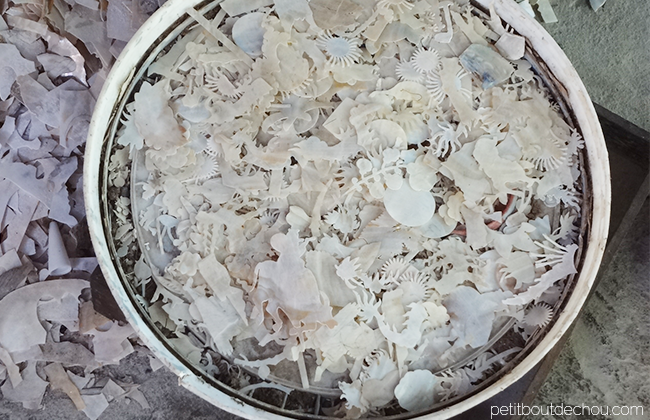 And I couldn't resist showing a picture of the beautiful pool of my hotel. Just in case your were not convinced yet!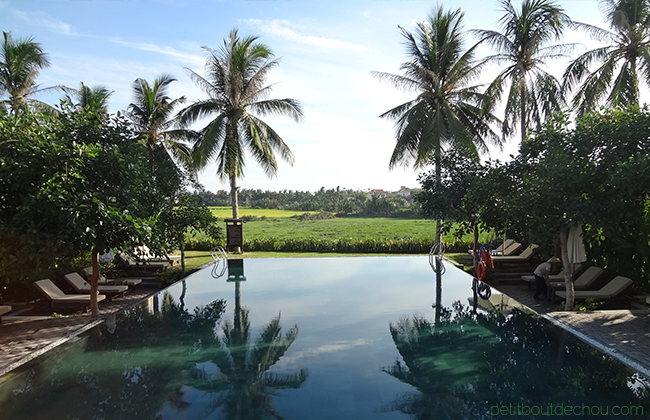 For the Frenchies, I would like to highlight that we do not need any visa any more (since July 2015) to visit Vietnam for less than 15 days, yeah! Same good news applies to citizens of Italy, Germany, Spain, UK and Belarus.
To discover more about the activities you could do in Hoi An on a 3 days trip, you can take a look at this tripadvisor guide which was very helpful for me.
I hope you enjoyed my new series. If you want more info or have any tips to share on Hoi An, please leave a comment below.