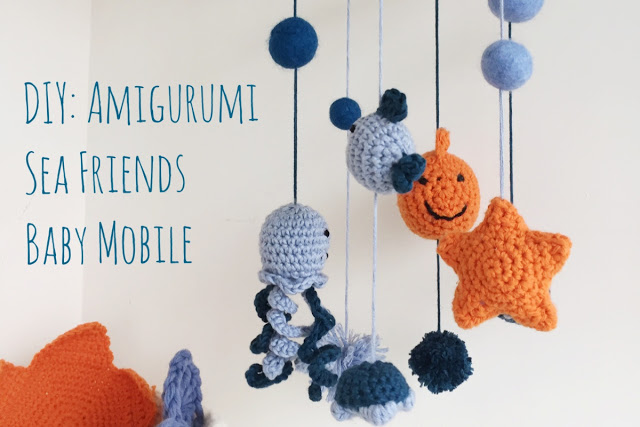 When I published a picture of this mobile on one of my facebook group called Crochet Addict, I was not expecting so many positive comments! Some of them were actually asking how did you make it and which pattern did you use, so I decided to make this post to answer them.
Supplies needed
Patterns used
For the goldfish, I have used the nice goldfish pattern from ea1701 which is also a base for many other sea animals like seals, dolphins, orca and shark!
For the small fishes, I have used this baby pufferfish pattern from Needlenoodles.
For the octopus, I have used this pattern from Mohu, a beautiful blog by the way with many other cute amigurumi patterns. For the tentacles, I have followed a French tutorial that I translate here: make a chain of the approx. twice the length you need, then do 3 single crochet in each chain, it will curl nicely. Then link them to the octopus body by a few stitches.
For the mini turtle, I used this pattern from Lucyravenscar.
For the mini starfish, I have worked my own pattern:
Abbreviations:
sc: single crochet
ss: slip stitch
sc2tog: single crochet decrease
increase: make 2sc in the same stitch
Pattern for mini starfish:
Rd 1: work 5sc in magic circle
Rd 2: make 2 sc in each sc (10)
Rd 3: * 1 sc, 1 increase* repeat 5 times (15)
Rd 4: * 2 sc, 1 increase* repeat 5 times (20)
The heart is done, now work on each branch separately.
Rd 1a: 4 sc, ch 1, turn,
Rd2a: 2sc, 1sc2tog, ch 1, turn,
Rd3a: 1sc, 1sc2tog, ch1
Rd4a: 2 sc, ch 1, turn,
Then, ss along the edge of the branch until you reach the heart and start the next branch.
Make 5 branches in total.
Make the other side of the mini star.
Stitch both sides until you have only one branch side open and stuff the star.
Then finish by stitching the remaining branch side and fasten off.
DIY steps
1. Prepare the wool fibre felt balls
I have made my own wool balls. I know you can buy some already made but where is the fun, right?
It is pretty easy to do with some hot water and soap. You just need to take some in your hand, put some hot water and soap and start gently to form a ball by rolling it between your hands.
Squeeze and wash the soap from time to time as you increase the pressure on the ball that you continue rolling to make it harden. I made balls of different diameters and let them dry for a few days.
2. Prepare your amigurumis
Following the patterns above, prepare your amigurumis in different colors and shapes as you like.
Let your imagination guide you!
3. Assembly
My favourite part where everything comes together! Take some yarn used for your amigurumis and make a knot at the end. Then go through your amigurumi and through one ball of felt. Then fasten the yarn to the inner ring of your embroidery hoop. Repeat this operation for all your amigurumi playing with the colours of the yarn and the amigurumi but also with the height of the different elements.
Once all the yarn skeins are attached to the ring, fasten 3 skeins at the top to suspend the mobile.
Make sure it is well balanced. Then place the outer ring of the embroidery hoop and fasten it.
You are done!
I couldn't resist making a short video of the mobile in movement…
I hope you enjoyed this DIY. I loved making this mobile and I hope you will have a great time too.
Please do not hesitate to send me pictures of your creations or share on social media:
petitboutdechou is also on facebook, pinterest and instagram.
Happy crafting everyone!